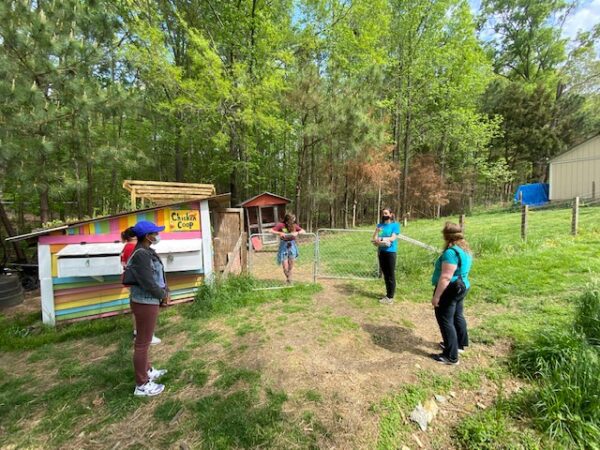 DURHAM, N.C.— A select group of educators visited the 30-acre Hub Farm on Wednesday, April 14 to explore environmental resources for outdoor education as part of the Kenan Fellows Program-EPA Durham Community Cohort.
The educators were able to participate in the special professional development program in-person or virtually. The one-day workshop was live-streamed during the farm visit. Teachers participated in a variety of sessions at Hub Farm, an outdoor learning center in Durham. Session topics included macroinvertebrates, weather, bee keeping, nature poetry, water quality and humans and the environment.
Educators had the opportunity to hear from the expertise of agriculture educators in Durham Public Schools, rotate to different stations to simulate a typical Hub Farm field trip, and engage in planning time to apply the Hub Farm resources.
Sarai B. Chandler, 5th Grade ELA teacher, said she found the experience to be professionally and personally enriching. One of the more rewarding aspects, she said, was getting to connect with teachers across the district and share ideas.
"Hub Farms is definitely a place all students of DPS should attend because there is something to learn from each and every aspect of the place," Chandler said. "I had a 45 minute drive home and all I could think about was how to incorporate what I learned into my virtual classroom."
The participants are K-12 Durham Public Schools educators who were selected to take part in the Kenan Fellows Program-EPA Community Cohort, a cross-curricular professional development series on food and the environment across North Carolina. The program provides educators in Durham Public Schools with a statewide perspective of environmental and agricultural issues while examining and deepening their understanding of these same issues in Durham.
"It was awesome to see the educators collaborating with each other as they learned how they could incorporate their learning standards into what the Hub Farm shared," said Margaret Borden, a Kenan Fellow alumnus and one of the facilitators of the cohort. "They recognized how interconnected all of the disciplines are, such as seeing how the chickens could be used in mathematics (designing a chicken coop), science (understanding chicken anatomy and species variety), social studies (studying pecking order), and culinary arts (eggs or poultry)."
Sessions are a blend of virtual and in-person events and address timely topics such as food deserts and environmental justice, and ways to develop eco-solutions for these issues in urban and rural communities. Future field trips include a trip to the Trinity Center in Pine Knoll Shores. The program was made possible by a grant from the Merck Foundation.