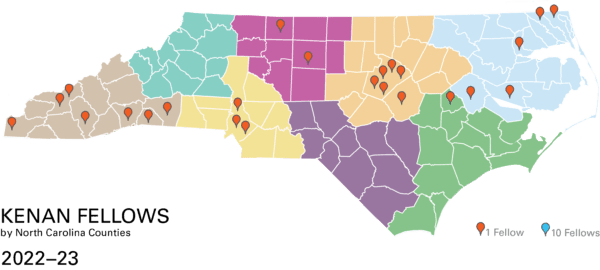 RALEIGH, N.C. – On National Teacher Day, the Kenan Fellows Program for Teacher Leadership at N.C. State University is pleased to announce the 24 North Carolina public school K-12 educators who have been awarded 2022–23 fellowships. 
The educators represent 17 counties across the state from Western to Eastern North Carolina and teach a wide range of grade levels from elementary to high school. The teachers are subject matter experts in a variety of disciplines including science, Career Technical Education (CTE), social studies, and special education.
"Each year, we look forward to naming our newest cohort of teacher leaders and are grateful to the many partners and supporters who make these fellowship opportunities possible for educators across the state," said Dr. Elaine Franklin, director of the Kenan Fellows Program for Teacher Leadership. "We are excited to see how this outstanding group of educators will leverage their fellowships to benefit their students, schools, and community."
This summer, the 2022–23 Kenan Fellows will spend three weeks interning with local experts in agriculture, scientific research, high-tech manufacturing, and other STEM fields. As part of the award, Kenan Fellows receive a $5,000 stipend and participate in 80 hours of professional development that focuses on project-based instruction, digital learning, elevating teacher voice, strengthening ties between the school and the local community, and peer coaching and mentoring.
Making these connections are critical, as traditionally teachers often do not have the opportunity to engage with the world beyond their classroom. The Kenan Fellows Program provides teachers with the opportunity to work in industry and research settings and supports the translation of their internship experience into an array of instructional resources that are then shared with their schools, districts, and communities.    
The fellowships are made possible through the generous support of the program's corporate, education, government, and foundation partners including American Zinc Products (AZP), Ag in the Classroom, Biogen Foundation, Burroughs Wellcome Fund, Charlotte-Mecklenburg Schools, Dogwood Health Trust, Goodnight Educational Foundation, Kenan Institute for Engineering, Technology & Science, North Carolina Department of Public Instruction, North Carolina's Electric Cooperatives, North Carolina Farm Bureau Federation, NC State University, Meta, Randolph Electric Membership Corporation, Stokes County Farm Bureau, and UNC-Chapel Hill.
Established in 2000 as an initiative of the Kenan Institute for Engineering, Technology & Science at N.C. State University, the Kenan Fellows Program addresses the critical need for high-quality professional development for educators and is the largest (science, technology, engineering, and math) STEM-focused teacher fellowship in North Carolina. Today, a network of 540 Kenan Fellows is working to improve K-12 education statewide and nationwide.
Below is a list of the 2022–23 Kenan Fellows, their fellowship projects, their mentors, and supporters by school district.
BEAUFORT COUNTY SCHOOLS

William Tyson
Washington High School
Northeastern NC
Computational Thinking/
Computer Science Fellowship
sponsored by NC DPI
Red Hat, Muhammad Arif
NC Department of Public Instruction

CAMDEN COUNTY SCHOOLS

Jennifer Lilly
Camden County High School/
Camden Early College High
Northeastern NC Computational
Thinking/Computer Science
Fellowship sponsored by NC DPI
Rick Evans, TCOM, L.P.
NC Department of Public Instruction

CHARLOTTE-MECKLENBURG SCHOOLS 

Karen Kyei-Fordjour
William A. Hough High School
Charlotte-Mecklenburg Schools
Teacher Leadership Cluster
TBD
Charlotte-Mecklenburg Schools

CHARLOTTE-MECKLENBURG SCHOOLS

Charles Mikesell
Davidson K-8
Charlotte-Mecklenburg Schools
Teacher Leadership Cluster
TBD
Charlotte-Mecklenburg Schools

CHARLOTTE-MECKLENBURG SCHOOLS

Alicia Moss
JM Alexander Middle School
Charlotte-Mecklenburg Schools
Teacher Leadership Cluster
TBD
Charlotte-Mecklenburg Schools

CHEROKEE CENTRAL SCHOOLS

Nichole Efird
Cherokee Elementary School
Building Healthy Communities
with ASAP sponsored by
Dogwood Health Trust
Jennifer Trippe, Appalachian Sustainable Agriculture Project (ASAP)
Dogwood Health Trust

CHEROKEE CENTRAL SCHOOLS

April Parrott
Cherokee High School
Building Healthy Communities
with ASAP sponsored by
Dogwood Health Trust
Jennifer Trippe, Appalachian Sustainable Agriculture Project (ASAP)
Dogwood Health Trust

CHOWAN COUNTY (charter)

Ryan Miller
Northeast Academy for Aerospace
and Advanced Technologies
Northeastern NC Computational
Thinking/Computer Science Fellowship sponsored by NC DPI
Red Hat, Muhammad Arif
NC Department of Public Instruction

CURRITUCK COUNTY SCHOOLS

Anita Rubino-Thomas
Currituck High School
Northeastern NC
Computational Thinking/
Computer Science Fellowship
Red Hat, Muhammad Arif
NC Department of Public Instruction

GREENE COUNTY SCHOOLS

Emily Lahr
Greene Central High School
STEM East Diversity and Equity
in STEM Asset Mapping Project
Bruce Middleton, STEM East
and Alfred Mays, Burroughs
Wellcome Fund
Burroughs Wellcome Fund

HENDERSON COUNTY SCHOOLS

Courtney Najdek
Hendersonville Middle School
Western NC Meta Fellowship
Joele Emma, Asheville
Greenworks
Meta

HAYWOOD COUNTY SCHOOLS

Sandra Hermida
Waynesville Middle School
Building Healthy Communities
with ASAP sponsored by
Dogwood Health Trust
Jennifer Trippe, Appalachian Sustainable Agriculture Project (ASAP)
Dogwood Health Trust

JACKSON COUNTY SCHOOLS

Kathryn Moses
Jackson Community School/
Fairview Elementary School
Building Healthy Communities
with ASAP sponsored by
Dogwood Health Trust
Jennifer Trippe, Appalachian Sustainable Agriculture Project (ASAP)
Dogwood Health Trust

JOHNSTON COUNTY SCHOOLS

Dorothy Holley
West Johnston High School
Biogen Foundation Young
Scientist Research Challenge
Brian Healy and Richard
Staub, IQVIA
Biogen Foundation

PITT COUNTY SCHOOLS

Lindsey Stalls
Eastern Elementary School
Northeastern NC Computational
Thinking/Computer Science Fellowship sponsored by NC DPI
Batt Masterson and David Catt,
Hitachi Astemo, Ltd.
NC Department of Public Instruction

POLK COUNTY SCHOOLS

Jennifer Taylor
Polk County Middle School
Western NC Meta Fellowship
Carol Steen, Biltmore Farms
Meta

RANDOLPH COUNTY SCHOOLS

Mindy Thornlow
Trinity High School
EmPowering STEM
with Randolph EMC
and North Carolina's
Electric Cooperatives
Nicole Arnold, Michael
Trent, Lindsey Davis,
and Hailey Rodriguez
Randolph EMC and North
Carolina's Electric Cooperatives

RUTHERFORD COUNTY SCHOOLS

Annie McEntyre
East Rutherford High School
Building Sustainability
and Community with
American Zinc Products
Mia Chapman, AZP
American Zinc Products

STOKES COUNTY SCHOOLS

Lisa Atkins
Sandy Ridge Elementary School
North Carolina Beef
DeShon Cromartie, Dana
Marshall, Jimmy Dalton,
Ryan Clark, Heather
Willoughby, and Lendy Johnson
NC Farm Bureau Federation,
Stokes County Farm Bureau
and Ag in the Classroom

WAKE COUNTY PUBLIC SCHOOL SYSTEM

Leslie Aguirre
Holly Springs High School
Biogen Foundation Young
Scientist Research Challenge
Tracy Ahrens, Biogen
Biogen Foundation

WAKE COUNTY PUBLIC SCHOOL SYSTEM

Cherilyn Murray
North Wake College &
Career Academy
Biogen Foundation Young
Scientist Research Challenge
Brian Healy and Richard
Staub, IQVIA
Biogen Foundation

WAKE COUNTY PUBLIC SCHOOL SYSTEM

Jill Ray
Vernon Malone College
& Career Academy
Biogen Foundation Young
Scientist Research Challenge
Tracy Ahrens, Biogen
Biogen Foundation

WAKE COUNTY PUBLIC SCHOOL SYSTEM

Emily Simpson
Athens Drive Magnet
High School
Memories and Fruit Flies
Dr. Toshihide Hige
UNC-Chapel Hill

WAKE COUNTY (charter)

Shannon Hardy
The Exploris School
Biogen Foundation Young
Scientist Research Challenge
Brian Healy and Richard
Staub, IQVIA
Biogen Foundation