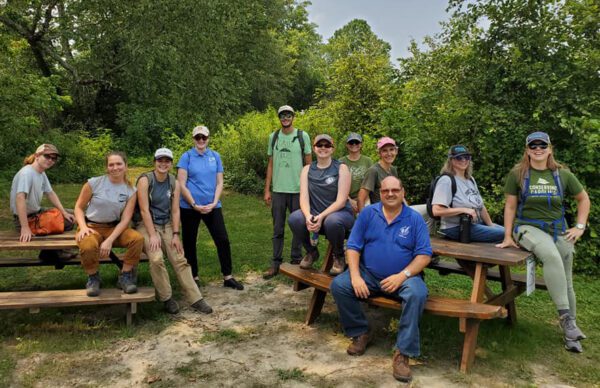 RALEIGH, N.C. ⎯ The Kenan Fellows Program for Teacher Leadership at N.C. State University is pleased to announce the statewide expansion of STEMwork, a K-12 blended professional development program that gives educators the tools they need to establish and sustain education–industry partnerships with local STEM employers.  
STEMwork addresses the need to close the skills gap that many North Carolina STEM industries encounter. As STEMwork grows, the Kenan Fellows Program aims to reach educators and students from traditionally underrepresented communities where economic challenges create obstacles for students to successfully transition to college and or careers, and employers struggle to recruit well-qualified local candidates. 
"Initiatives like STEMwork are essential to building sustainable education-industry partnerships in underserved communities that will help to solve both employers recruiting problems and student career development shortcomings," said David Kaiser, chairman of the Kenan Fellows Program for Teacher Leadership Board of Advisors (BOA). "With its 22-year exemplary history of bringing together teacher leaders and STEM professionals, the Kenan Fellows Program is well-positioned to lead this much-needed effort across the state."
STEMwork is a year-long blended (online and offline) professional development program that includes eight online asynchronous sessions, industry visits, and meet-ups with facilitators and their team members. As part of the program, teachers go into local industries where they learn about the variety of STEM jobs that are available in their local communities. With the guidance of a facilitator trained by the Kenan Fellows Program, the teachers will have developed a Project-Based Learning (PBL) unit that can be implemented in their classrooms and shared with colleagues.
Thanks to funding from corporate, foundation, education, and individual sponsors, the Kenan Fellows Program is able to implement the 2022-23 STEMwork Professional Learning Institute in 19 communities across North Carolina following a successful 2021-22 pilot program in the Triangle and Western regions. The 2022-23 STEMwork institute will kick off on June 10 with a series of orientation sessions in the Piedmont, Western, and Eastern regions of the state led by Kenan Fellows Program staff and trained STEMwork facilitators, who are alumni of the Kenan Fellows Program. 
Corporate, foundation, and education funders for the new program year include the Belle Jar Foundation, Meta, the Dogwood Health Trust, NC SMT Center, Burroughs Wellcome Fund, South State Bank, Moore County Schools, Scotland County Schools, and Charlotte-Mecklenburg Schools. Individual funders include Tia McLaurin, a member of the Kenan Fellows Program Board of Advisors (BOA), John Atkins, a board of trustee member of the Kenan Institute for Engineering, Technology & Science, and John Hardin, the former chairman of the Kenan Fellows Program BOA. Counties served will include Rutherford, McDowell, Moore, Duplin, New Hanover, Swain, Lenoir, Henderson, Alamance, Pitt, Buncombe, Craven, Scotland, and Mecklenburg.