CHAPEL Hill, N.C.—Alumni of the Kenan Fellows Program for Teacher Leadership (KFP) at N.C. State University helped lead the charge to promote equity in STEM education at the inaugural Science for All Summit on April 5-6.
The Morehead Planetarium and Science Center launched the summit to enhance inclusion, diversity, equity, and access (IDEA) in science, technology, engineering, and mathematics (STEM). This year's theme was "From IDEA to Action." The event convened educators, researchers and thought leaders. The sessions and keynote addresses focused on sharing research, strategies, tactics and resources to develop actionable steps that will influence sustainable change.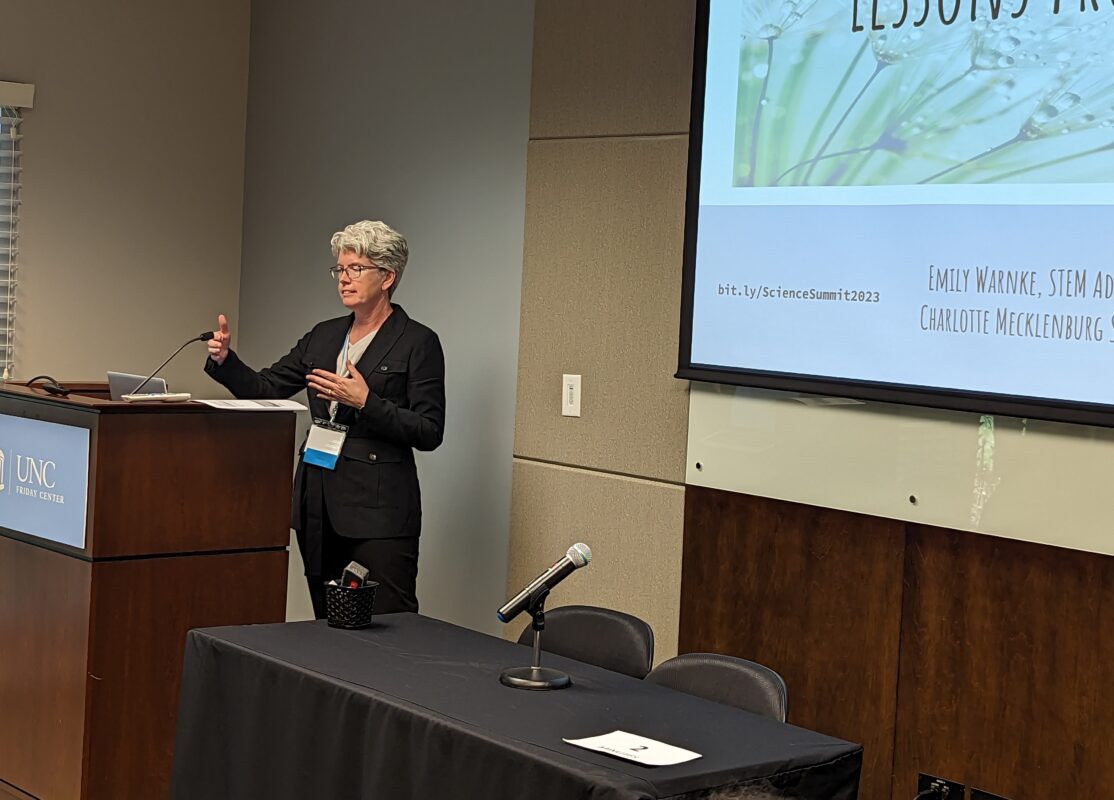 Six KFP alumni delivered presentations during the two-day summit at the Friday Center at UNC-Chapel Hill and two alumni served on the planning committee.
Jamie Lathan, Ph.d., vice chancellor of extended learning at N.C. School of Science & Mathematics (NCSSM), delivered the keynote lunch address on the summit's final day. Lathan and his NCSSM colleague, Candice Chambers, discussed how they designed and implemented an online course that teaches students how implicit biases and a history of scientific racism shape biological science concepts.
Michelle Ellis, Ph.d., STEM Educators for Equity and Diversity SEED Fellows, presented a session on "K-16 DEI Practitioners at Work." Her workshop focused on implementing student-centered and culturally-relevant strategies for STEM classrooms.
Emily Warnke, Charlotte-Mecklenburg School, led a session on "Lessons Learned From S.E.E.D." Warnke discussed how to foster a more inclusive school environment for all learners.
Lena Deskins, Durham Public Schools, and Rachael Polmanteer, The Center for Inquiry Based Learning (CIBL), co-presented on "STEM Nurturing for IDEA." Deskins and Polmanteer delivered a hands-on workshop for teaching elementary students how to "think like a scientist" by embodying the scientific method.
Polmanteer and Melaine Rickard, CIBL, co-presented on "Hands-On With IDEA Principles." Their session demonstrated hands-on science activities for learners to experience how core pedagogical beliefs around inquiry science support IDEA principles.
Mark Townley, KFP's assistant director of programs, and Linda Dion, a science teacher in Wake County Public Schools, served on the summit's planning committee. Dion's students led a presentation on the importance of inclusivity in education. The students shared personal accounts of how they define equal access as students with disabilities.
Teachers Teaching Teachers
On average, KFP alumni deliver 45 hours of professional development per year. KFP estimates that alumni provide about $1.5 million in annual professional development to benefit other teachers across North Carolina.
According to an independent research study, KFP alumni outperformed their peers in terms of leading professional development for other educators. Kenan Fellows were almost twice as likely to lead professional development, and a majority of Kenan Fellows reported higher instances of collaboration among peers through professional learning communities.