RALEIGH, N.C. – Five Eastern North Carolina educators have been named 2023-24 Kenan Fellows. Their fellowships were made possible through a collaboration between the N.C. Department of Public Instruction (NCDPI), the Office of Career and Technical Education's #IAmComputerScience campaign, and the Kenan Fellows Program for Teacher Leadership at N.C. State University.
The teachers are part of the 2023-24 Kenan Fellows cohort of 38 statewide educators. Their fellowship projects will be to advance STEM education and build a Northeastern North Carolina-based ecosystem of teacher leaders that will support career and workforce development in the computer science fields. This is the second consecutive year NCDPI has supported this initiative. As part of the fellowships, the educators will be immersed with statewide and local industry partners: Fleet Readiness Center East, Hitachi Astemo, Nucor Steel, and TCOM. The Fellows will receive customized professional development in computer science and computational thinking specific to the Northeastern part of the state.
"As educators, it is both our responsibility and privilege to prepare students for success after graduation," said State Superintendent Catherine Truitt. "STEM and computer science have a strong presence in our state, and I am thrilled to see these educators take a leading role in this work to prepare students for their next steps. I am grateful for their passion and commitment to equipping the next generation of students to lead in a field that only continues to grow in its size and scope here in North Carolina."
The fellowships were made possible through a grant from NCDPI. The educators are listed below.
Elizabeth Driver, Pactolus Global School, Pitt County Schools
DaChelle Gupton, Wellcome Middle School, Pitt County Schools
Ashley Jones, Grifton School, Pitt County Schools
Anna Seaborn-Pugh, Gatesville Elementary School, Gates County Schools
Rick Lage, Camden Early College High School, Camden County Schools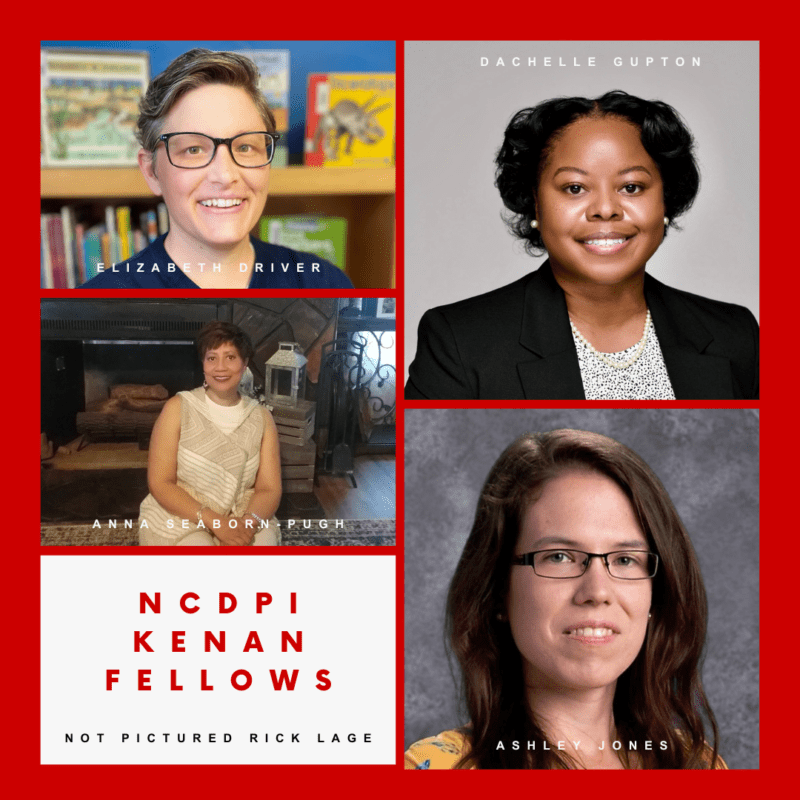 Kenan fellowships are awarded through a competitive application process. As part of the fellowship, the educators will earn a $5,000 stipend, spend three weeks interning in local industries, and attend a series of professional learning institutes focused on project-based learning, digital learning, and leadership development. Teachers remain in the classroom while completing the yearlong fellowship. Educators who complete the program say they feel a deeper connection to their community and grow professionally as part of a statewide network of teacher leaders. As their leadership skills grow, Kenan Fellows lead proactively within their schools and districts. Many become empowered to influence and lead educational innovation at the state and national levels.
"Thanks to the support of NCDPI, we are able to provide opportunities for areas of the state where students have fewer resources to learn about tech careers and the skills they will need to land those jobs," said Vance Kite, director of the Kenan Fellows Program for Teacher Leadership.