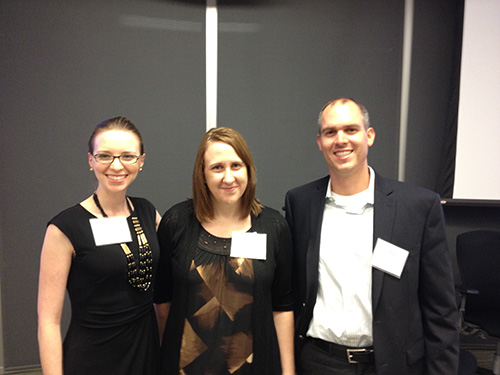 RESEARCH TRIANGLE PARK, N.C. — The Biotech Manufacturers Forum invited the Kenan Fellows Program and Biogen Idec to present at their quarterly meeting on Sept. 19 at the NC Biotech Center in Research Triangle Park.
The Biotech Manufacturers Forum, an initiative of NCBIO, gives North Carolina biotech companies a platform to discuss strategic issues of common interest such as regulatory and work force issues. The Kenan Fellows Program creates partnerships that allow corporations to impact the future workforce through professional relationships with K-12 teachers.
Biogen Idec — a member of the Biotech Manufacturers Forum and a three-year partner of the Kenan Fellows Program — led a panel discussion and fielded questions from the audience.
Mike McBrierty, Sr. Manager of Public Affairs for Biogen Idec and Aeona Magliola, Associate Scientist III at Biogen Idec spoke about their experience working with Fellow Julie-Anne Thomasch of Wake County.
Kenan Fellows Program presenters included Dr. Ruben Carbonell, Director of the Kenan Institute for Engineering, Technology & Science and Susan Parry, Acting Director of the Kenan Fellows Program.The panel gave a 20-minute presentation that featured a video, a discussion of the benefits of a fellowship to teachers, students and corporate Mentors.
"The Kenan Fellows Program is really a win-win for the education community as well as for us as a company," said Mike McBrierty, Director of the Biogen Idec Foundation and a member of the Kenan Fellows Program Advisory Board.
As part of her fellowship, Ms. Thomasch, a high school biology teacher at Green Hope High School, worked with her Mentors Ms. Magliola and Shiranthi Jayawickreme to develop classroom lesson plans with a real-world focus. This summer, her externship spanned five weeks at Biogen Idec where she learned how the company uses cutting-edge science to discover, develop, manufacture and market biological products for the treatment of serious diseases.
In a thank you note to Biogen Idec staff members, Ms Thomasch wrote:
You have made my experience here at Biogen Idec one of the highlights of my professional career. I have learned so much and am so excited to get back into my class and share my experience with my students. Please know that because each of you "care deeply" and "work fearlessly" that you have certainly changed my life. In return, this experience will also impact so many students in the years to come. I can only hope that because of this experience, I will be able to better inspire and prepare my students for successful scientific careers at an amazing biotech company like Biogen Idec.
The biotech industry offers great opportunities for a variety of innovative fellowships through the Kenan program.
Also presenting was the National GEM Consortium which conducts two programs to promote the participation and successful graduation of under-represented minorities at the graduate level in science and engineering.
"I'm very pleased the Biotech Manufacturers Forum could be instrumental in bringing together various STEM education programs along with industry to heighten awareness and seek mutually-beneficial interaction," said Bruce Kaylos, program manager for NC Bio's Biotech Manufacturers Forum.
Pictured Above: Left to right: Aeona Magliola, Biogen Idec (Mentor), Julie-Anne Thomasch (Kenan Fellow), and Mike McBrierty, Biogen Idec and Kenan Fellows Board of Advisor Member
Learn more about the Kenan Fellows Program and the impact of corporate partnership in the following video.