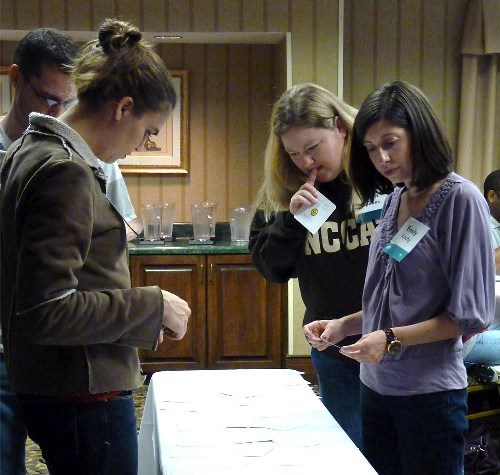 Which character traits best define a leader?
Courage? Humility? Wisdom?
The Class of 2013 pondered this question during the Kenan Fellows Program Professional Development Institute on October 18 and 19 in Raleigh. As part of the two-day workshop, Fellows were asked to consider what qualities—either those they desired or already possessed—were required to become great leaders inside and outside of the classroom.
"Having discussions with other Kenan Fellows around how to see myself as a teacher-leader — how to have confidence in that message and to have it heard — was empowering and enlightening," said Fellow Erica Speaks, a language arts teacher at Durant Road Middle School in Wake County. "To inspire innovation in others, to carry your light to students and to fellow educators, is an energizing prospect."
Professional Development Fellowship Perk
The Kenan Fellows Program provides two weeks of professional development as part of the fellowship. Workshop topics are based on current trends in teacher professional development as well as recommendations made by Fellows. Previous institutes have focused on integrating technology tools to enhance student learning, the engineering process in all classrooms and inquiry lesson development.
The two-day workshop in October 2012 was the final professional development session for the Class of 2013. It featured a series of team-building, leadership development and professional growth exercises. Between the exercises, the class of 43 Fellows engaged in candid conservations about global perspectives in the classroom and what it means to be a teacher leader.
Professional development facilitators included Deborah Mangum, former Director of the Kenan Fellows Program and President of Mangum Partners; Carolyn McKinney, Executive Director of the NC Professional Teaching Standards Commission; Judy Phillips, Partnership for Excellence; and Craig Tucker, Program Coordinator for the Kenan Fellows Program.
Personal Growth
On a personal level, the workshops give Fellows the chance to draw inspiration from other teachers, share best practices and plan to try new activities in their classrooms.
"My desire to improve each and everyday is fueled by the friendships and knowledge that I have gained from all the Fellows," said Fellow Kirk Kennedy, a science teacher at East Duplin High School in Duplin County. "I have a sticky note on my desk that states incorporate one new thing every 2 weeks. It is just a constant reminder that I want to get better each day and give my students the opportunity to experience new and exciting things."
To see pictures from the workshop, visit our Facebook page at facebook.com/KenanFellows.
Pictured: Fellows Catherine Hart, Ryan Monson, Erica Speaks and Emily Kochy