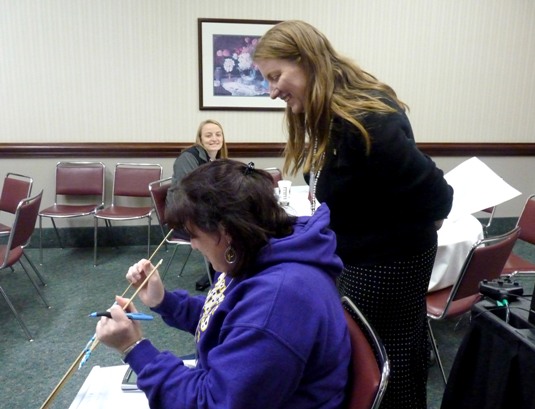 GREENSBORO ─ During a statewide teaching conference, Fellow Allison George showed a room of teachers how a paper airplane can make learning math fun.
George, who teaches at RJ Reynolds High School in Winston-Salem, shared the high energy math lessons ─ that she created as part of her Fellowship ─ with teachers from across the state on October 25 and 26 at the 42nd Annual State Conference of the North Carolina Council of Teachers of Mathematics.
For her externship, George partnered with educators and trainers at Guilford Technical Community College to see first-hand the kinds of STEM skills necessary to succeed in the field of aviation. As part of her project titled "Building a Workforce in Aerospace and Aviation," she spent time with local aerospace and aviation companies that hire GTCC graduates and partnered with GTCC instructors in the development and execution of aviation training programs.
Shaping The Next Generation's Workforce
"Airplane mechanics do use math. For kids that information blows them away," George said. "What I did as part of my Fellowship was talk to some of the instructors at Guilford Tech, as well as human resource professionals and line crew at Timco about what they are looking for in prospective employees. Then in building these lesson plans, I incorporated those skills so the students would be able to acquire them and become much more marketable."
George was one of six Fellows who presented at the conference. Danielle Flores, who worked on the same project as George also presented at the conference. The presentations ranged from 45 to 90 minutes and addressed topics including guided math, "real world" geometry and algebra learning games.
Fellows who presented and their topics were:
• Tomika Altman-Lewis, Durham Public Schools: "Guided Math the Common Core Way"
• Mark Jankowski, Asheville City Schools: "When Am I Going to Use This?"
• Caroline Courter, Pender County Schools: "Connecting the Common Core to Centers for K-2"
• Danielle Flores, Guilford County Schools: "Algebra 1 Common Core: Activities to Engage"
• Dianna Stavros, Wake County Public Schools: "Using Technology to Enhance the Common Core"
• Allison George, Winston-Salem/Forsyth County Schools: "Flying Through the Common Core: Aviation-Based Lesson Plans"
The Kenan Fellows Program provides teachers with the training and expertise to develop content-rich, age-appropriate educational materials. Fellows draw from the experience of their five-week externships to create one-of-a-kind lessons using the state's curriculum standards as a guide. Once their lesson plans have been tested and vetted, Fellows share their findings with their peers at the local, state and national levels.
"The Kenan Fellows Program spoiled me for every other professional development I am ever going to have. It was transformative for me as a teacher and the way I view teaching as a profession," George said. "It was an amazing experience."
*Congratulations to Fellow Carol Taylor who was recognized as Outstanding Secondary Mathematics Teacher for Winston-Salem/Forsyth at the conference.
See pictures from the conference on our Facebook page.
See pictures from the conference on our Facebook page.
Pictured: Allison George gets the help of a fellow teacher for a demonstration during the NCCTM conference