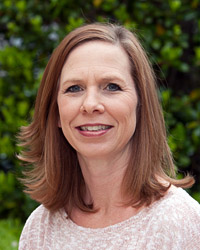 Students at Currituck County High School were treated to a live NASA webcast featuring the space adventures of astronaut Suni Williams.
The North Carolina school was one of only three in the nation invited to participate in a NASA webcast from inside an International Space Station mock-up node at the Johnson Space Center in a NASA astronaut training facility.
Kimberly Mawhiney, a Kenan NASA Flight Fellow, learned about the webcast through professional development provided by the Kenan Fellows Program. Having her students tune into the webcast was a perfect fit, she said, for her fellowship project, "Opportunities in Aviation."
"At first I was only going to have my Introduction to Aviation class and the HS Physics class involved, however, after talking to other students in my AP and Honors Chemistry classes, I found out that they were also interested," Mawhiney said. "In fact, one of my chemistry students wants to go to college to learn about Astrophotography. So it made me think a bit and I decided to open it up to the school."
On November 2, students tuned into the webcast to learn about astronaut Suni Williams' work aboard the ISS. A NASA Education Specialist, as well as other NASA experts, highlighted some of the aspects of Williams' mission. Students had a chance to ask questions of these experts.
"This will help students understand that things that are beyond our scope of imagination do affect them in some way," Mawhiney said. "It may be in the future but it does affect their way of life."
NASA Shoebox Challenge
Mawhiney's students are also participating in another NASA event ─ the shoebox challenge. On November 7, her students, along with another physics class, tuned into another webcast with NASA on how a shoebox can be transformed into an aircraft. Students have two weeks to build a flying shoebox based on the advice they collected from NASA experts.
Mawhiney plans to record the students' experiments and discuss the lessons they can glean from their successes and failures.
Partnering with another classroom on the project, she said, will allow the students to better learn from another. "I believe that my aviation students can probably teach the physics students and vice versa," she said.