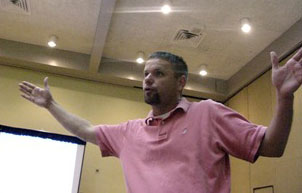 WINSTON-SALEM, NC ─ Kenan Fellow Marty Creech led more than a dozen science teachers in the "Digestive Boogie" during the North Carolina Science Teachers Association 43rd Annual Professional Development Institute.
The health science song and dance is one technique Creech shares with teachers to help students understand the human digestive tract.
By getting the teachers to sing and move about, Creech demonstrated the power of the mind-body connection and how injecting fun into the classroom can motivate students and boost their brainpower.
"My Kenan Fellowship at Wake Forest Baptist Laboratory of Complex Brain Networks enabled me to learn more about how our brains work and why music, movement and other stimuli engage our minds and inspire learning," Creech said.
He presented his session, "Music, Movement, and More Excitement for Our Brains" at the conference in Winston-Salem on November 8 and 9. This year's theme was "Catch the Wave" of change.
Creech was among a group of 16 past and present Kenan Fellows who presented at the conference which drew science teachers from across state. The hour-long presentations given by Fellows featured hands-on workshops and teacher-tested classroom activities.
Fellows who presented and their topics were:
• Kathleen Melious, TW Andrews High School, Guilford County Schools: "How Green is the Greenway? Using Field Research as a Teaching Tool."
• Bruce Bridges, Crest Middle School, Cleveland County Schools: "I Heard it Through the Grapevine: Microbes May Not Be Fine" (Also presenting was Bridges' mentor Charles Edwards, owner of Baker Buffalo Creek Winery.)
• Melanie Rickard, Turrentine Middle School, Alamance-Burlington Schools: "Catch the Energy Wave: Renewable Energy Activities from FREEDM" and "Catch the Integration Wave: Energy and Literacy Activities" (Her mentor Dr. Lisa Grable of the FREEDM Center at NC State presented alongside Rickard.)
• Paul Cancellieri, Durant Road Middle School, Wake County Public Schools "Teaching Global Collaboration: A Kenan Fellow's Experience"
• Sharon Green, Caldwell Early College High School, Caldwell County Schools: "Evidence of Evolution or Get a Clue" and "Essential Biology"
• Lori Craven, Cedar Creek Middle School, Franklin County Schools: "The Statistics of Climate Change: A Real World Example"
• Rodney Schmitz, Lee Early College High School, Lee County Schools: "Writing to Learn in the Sciences for College Readiness"
• Tara Johnson, West Johnston High School, Johnston County Schools: "Teaching Mechanical Advantage: Lessons with Simple Machines"
• Jeffrey Faulkner, CW Stanford Middle School, Orange County Schools: "Invite a Scientist to Your Classroom"
• Jeffrey LaCosse, Durham School of the Arts, Durham Public Schools: "Student Investigations into the Physics of the Jet Engine"
• Elizabeth Bustle, Davie County High School, Davie County Schools: "Engineering Design Detectives"
• Mildred Bankhead-Smith, West Pine Middle School, Moore County Schools: "Science Notebooking for the 21st Century"
• Pamela Roberts, West Bladen High School, Bladen County Schools and Dora Barton, Westover High School, Cumberland County Schools: "Angry Birds and Hunger Games"
• Sam Wheeler, Einstein Fellow Do we know where he teaches now?: "Inquiry-Based Instruction: What Is It and How Do I Use It?" and "Travel the World and Learn: Teacher Field Expedition Experiences" (Kenan Fellows Class of 2004)
See pictures from the conference on our Facebook page.
Pictured: Fellow Marty Creech shows science teachers how to do the "Digestive Boogie."