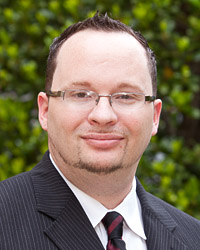 RALEIGH, N.C., Feb. 20, 2013 — Kenan Fellow Alexander Constas is slated to lead a session on A Three Dimensional View of the Science Classroom at the 2013 Southeast Regional Conference for Noyce Scholars on March 21- 23 in Greenville, SC. His presentation will explore how he is using his Kenan Fellowship to engage students through 3-D science simulation.
Energizing Science Education
The conference gives scholars and faculty a chance share ideas for teaching science and math in high-need schools. Kenan Fellows Program Coordinator Craig Tucker will present with Mr. Constas, who is in the first year of a National Science Foundation Robert Noyce Master Teaching Fellowship.
About the Fellow
For his externship, Mr. Constas joined Immersion Media, a Fayetteville multimedia development company, in creating curriculum to enhance their interactive science models for SMART Boards. Combining the simplicity of a whiteboard with the power of a computer, SMART Boards allow teachers to deliver engaging and dynamic lessons.
Mr. Constas, who teaches at Shughart Middle School on Fort Bragg, collaborated with programmers and graphic designers at Immersion Media to create lesson plans to be distributed with the company's products.