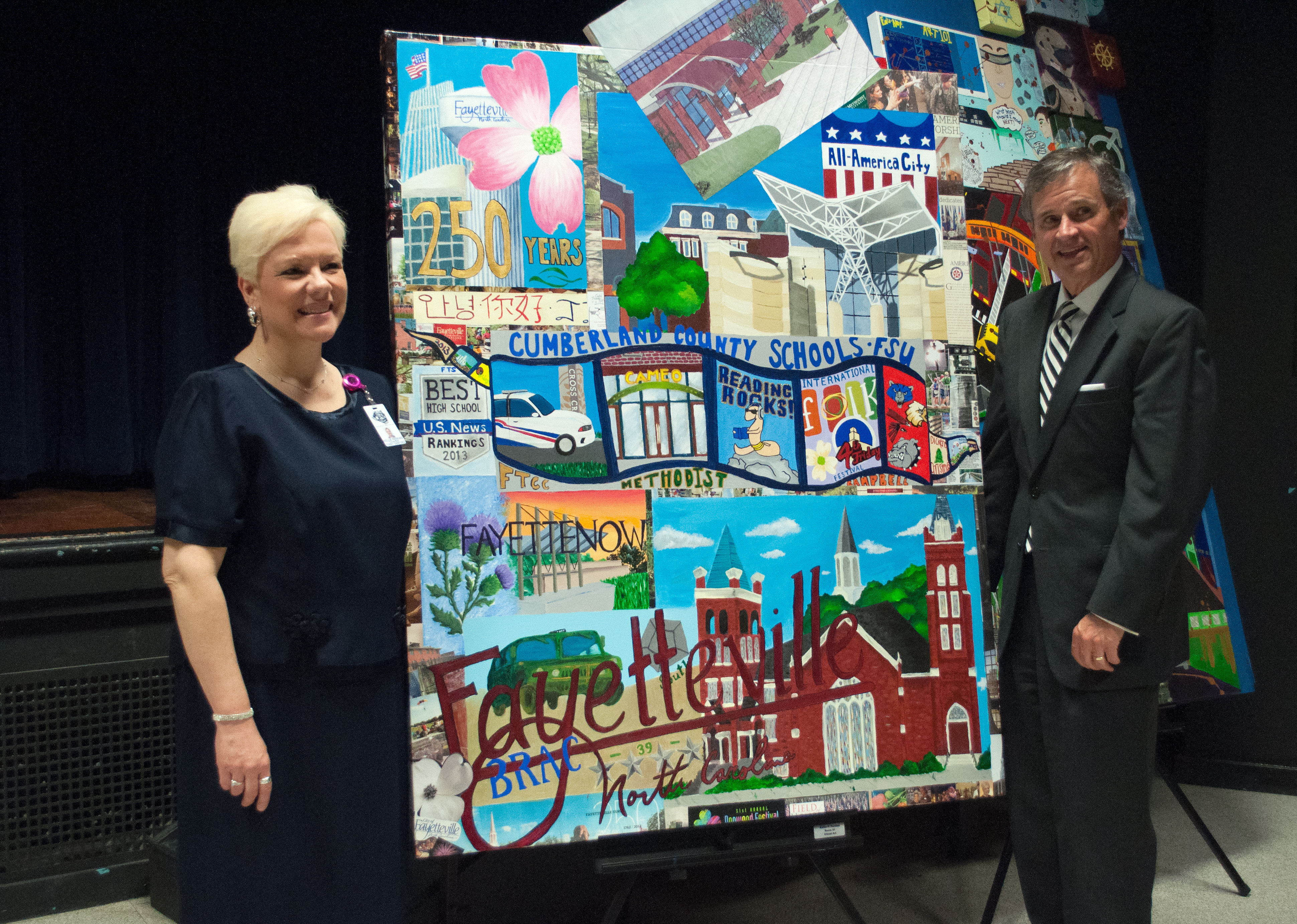 FAYETTEVILLE, N.C. — In the midst of Fayetteville's 250th birthday, Terry Sanford High School is getting ready to commemorate its 100th anniversary. In an effort to spread the celebratory spirit among the members of the school and community, Kenan Fellow Kellie P. Perkin's art students have created a mural, "Homage to Fayetteville: Past, Present, and Future."
The mural was inspired by Perkins' Kenan Fellowship project: "Teachers Training Teachers: Delivering Innovative Multimedia Curriculum Resources," in which she partnered with consultants at the N.C. Department of Public Instruction to develop teacher training materials to support the implementation of the new Common Core and Essential Standards.
The mural — a three-part piece or triptych — is the work of three different art classes and other select art students. The students researched Fayetteville through field trips and print and digital resources.
More than 500 hours of hard work have been put into the project, and the result is an impressive collaborative mixed media artwork that displays Fayetteville's development in infrastructure, military, education, transportation, religion, government, cultural diversity, tradition, events, celebrations, religion, technology and transportation.
The mural was unveiled on Monday, April 29, 2013 inside the Terry Sanford High School auditorium. Mayor Tony Chavonne, who took part in the festivities, said the mural will be displayed in downtown Fayetteville.
Visit the Kenan Fellows Program Facebook page to see pictures from the event.
Pictured: Kenan Fellows Kellie Perkins and Fayetteville Mayor Tony Chavonne pose in front of part of the mural which depicts Fayetteville's present.