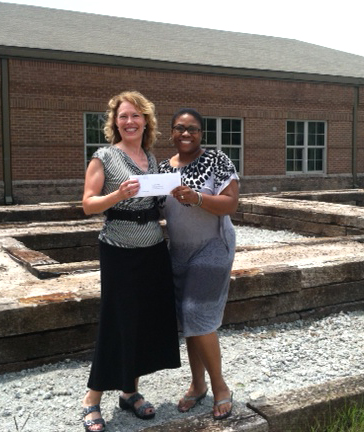 RALEIGH ─ Only three months into their Fellowships, 2013-14 Kenan Fellows have started receiving a number of grants, speaking engagements and other accolades including recognition from state and local elected officials.
The newest cohort of Kenan Fellows represent every region of North Carolina including rural and urban districts. The Fellows began the program in the spring and have been working on summer research projects with mentors in industry or higher education. Their work will be translated into classroom lessons for students and will be shared with teachers across the state.
The following is a list of Fellows and the type of recognition they have received:
LaTanya Pattillo, East Columbus High School and Jennifer Spivey, South Columbus High School, Columbus County Schools were recognized in the July newsletter for N.C. Rep. Ken Waddell. The teachers were congratulated for being named 2013-14 Kenan Fellows. Ms. Pattillo has also received a grant for the East Columbus Sustainable Garden Project. The science, technology, engineering and math based program will introduce students to sustainable agricultural techniques with the goal of growing produce to distribute in the community.
Rene' Herrick, Fuquay-Varina Elementary School, Wake County Public Schools, received a letter of congratulations from N.C. Rep Paul Stam for receiving a Wake Ed Partnership Teacher Leadership Innovation Grant.
Katherine Phelps, New Hope Elementary School, and Kristin Bedell, Efland-Cheeks Elementary School, Orange County Schools have been accepted to present at the National Council of Teachers of Mathematics Conference this fall.
Christy Wilson, Ben D. Quinn Elementary, Craven County Schools, was invited to serve a three-year term the Board of Directors for Craven County's Partners In Education.
Joyce Metger, Moyock Elementary School, Currituck County Schools, was named Outstanding Elementary Math Educator at her school and has been awarded a grant from the National Gardening Association's Kids Gardening program.
Donna Podgorny, world languages curriculum coordinator for Union County Schools, was recognized by the Union County School Board for her acceptance as a Kenan Fellow. She is also slated to present on world languages resources for teachers at a statewide conference in October.
Erin Lawrence was recognized by U.S. Senator Kay Hagan for being named a 2013-14 Kenan Fellow.
**Photos: Top: 2013-14 Kenan Fellow LaTanya Pattillo (left) receiving a grant award. Right: 2013-14 Kenan Fellow Donna Podgorny is recognized by the Union County School Board.