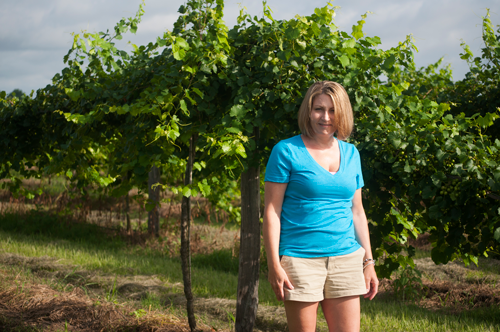 2013-14 Kenan Fellow Amy Powers spent part of her summer at Cottle Farms in Duplin County where she learned what it takes to run a large-scale farming operation. As part of her time at Cottle Farms, she helped develop a marketing campaign for the farm's new muscadine grape smoothie line.
Ms. Powers teaches at Wallace-Rose Hill High School. Her mentor was John Parker of Cottle Farms. Duplin County Schools and North Carolina New Schools sponsored her Fellowship.
For five weeks in the summer, Kenan Fellows are embedded in research labs, manufacturing facilities, hospitals, agribusinesses and other local workplaces to glean how researchers and industry professionals use science, technology, engineering and math (STEM) on the job.
Kenan Fellows translate what they have learned from their summer work experience back to the classroom where they create lessons to engage students with relevant and practical applications for learning STEM ─ answering the age-old student question "When am I ever going to use this?"
What departments have you had a chance to explore during your time at Cottle Farms?
A: I had the pleasure of seeing the entire operation:
• Physical Facilities: fields, packing houses, irrigation pump houses, machine shop, equipment sheds, and the cold storage facilities
• Office of Chief Officer of Operations
• Accounting/Payroll
• Sales – Berry
• Sales – Vegetables, grapes
• SQF – Safe Quality Food Dept.
• Muscadine Times (subsidiary)
• Farm Owners
How has this experience affected your teaching career?
A: I have a better idea of the workforce needs of regional business and how I should better prepare my students to fulfill those needs. I have enjoyed looking at the world as a student.
What has been the most eye-opening experience during your time at Cottle Farms?
A: I had no idea what running a large-scale farm was like. I knew crops were grown, went to market and then to the table. But I did not know how diverse and sometimes complicated getting food to market could be.
What new careers have you learned about that you want to share with your students?
A: My students can enter the agricultural field as:
• Accountants
• Lawyers
• Engineers
• Chemists
• Graphic artists
• Health and safety experts
• Human resource experts
All of these don't even require stepping outside a building!
How will you incorporate this experience into your classwork?
A: I want to expose my students to the "other side of agriculture" through extensive research, interviews of field experts, mock marketing campaigns, and analysis of the language of agricultural marketing. Ultimately, I want them to create a real or hypothetical product with agricultural roots and plan a marketing strategy.
When your students ask you, "Ms. Powers, what did you do last summer," how will you sum up your experience?
A: I spent my summer getting my hands dirty and my horizons expanded!
*Photo by Amneris Solano: Amy Powers at Cottle Farms in Duplin County.