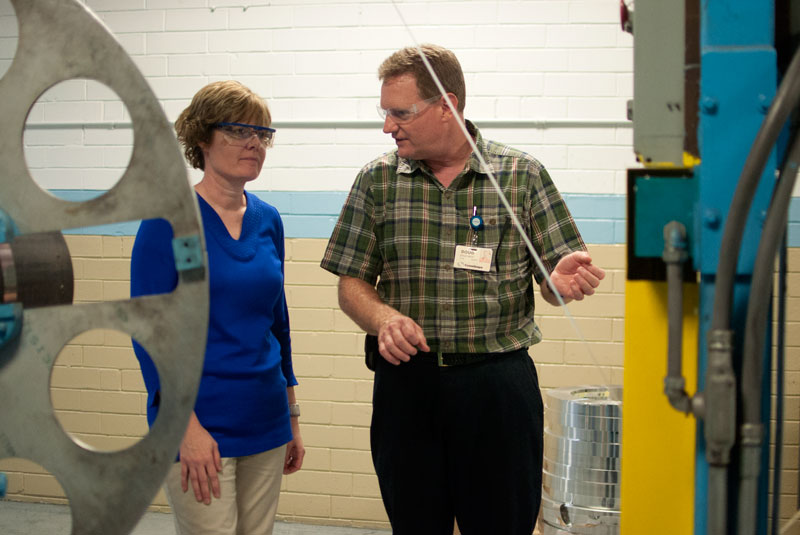 This summer, Kathleen Boice, a teacher at Troutman Middle School in Iredell County, experienced the telecommunications industry first-hand by spending five weeks observing and learning from engineers at CommScope, one of the world's premier network infrastructure providers. Boice was given exclusive access to the company's inner workings exploring its many facets. With the help of her mentor, Doug Blew who is the VP of Global Manufacturing Engineering at CommScope, she is using her observations and research to bring real world lessons into her classroom.
What departments did you explore during your time at CommScope?
A: I have explored the following Departments:
• Waste Water Treatment
• Environmental Health
• Research and Development
• Global Radio Frequency Testing
• Controls
• Drop and Truck Cable
• Fiber Optics
• Recycling of Plastics
I also went on plant tours with emphasis on machines, energy, circuits and controls and I gained exposure to main processes of plastic extrusion, foaming, aluminum extrusion, forming and welding (QR), annealing, robotics, control panel, recycling, polymers, bimetals, and cladding.
What new careers have you learned about that you want to share with your students?
A: I have learned the value and purpose of many careers in engineering as well as gaining an appreciation for those who LOVE math! After working with about 30 engineers of different backgrounds and services, I can better direct students when choosing possible careers and in developing their academic plan for high school.
How will you incorporate this experience into your classwork?
A: I will make connections with chemistry, plastics, metals, metalloids and how they are used in the world of communications. I will also utilize my mentor's knowledge base to create activities related to communications and engage students in the process of becoming globally conscience. This will tie into my Earth science unit. To incorporate life science, I will use the examples of CommScope's waste water treatment plant to help students understand the benefits of bacteria in decomposing and cleaning of waste water.
How has this experience affected your teaching career?
A: It caused me to rethink my entire classroom setting and presentation. I am creating flipped classroom assignments and developing labs. I can easily tie in the knowledge I gained during my time at CommScope with the entire 8th grade science curriculum.