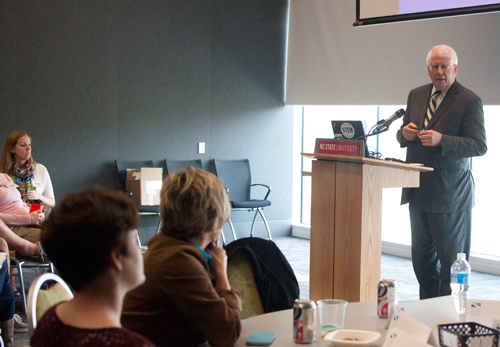 Raleigh ─ Two prominent North Carolina leaders lauded the Kenan Fellows Program as a national model for teacher leadership training and retention during the 2013 Fall Professional Advancement Institute Oct. 17-18 at the James B. Hunt, Jr. Library on NC State's Centennial Campus.
As part of the two-day institute, U.S. Rep. David Price, 4th District, and Eric Guckian, Senior Education Advisor to Gov. Pat McCrory, spoke to the cohort of 2013-14 Kenan Fellows about public education policy at the state and national level. Congressman Price and Mr. Guckian both praised the Kenan Fellows Program for its role in helping to shape exemplary teachers who drive innovation in their schools and districts.
Congressman Price had lunch with the Fellows on Oct. 17 and spoke about federal education policy while answering questions in a town hall-style format. Price, who introduced the Keep Teachers Teaching Act, said he would like to see programs such as Kenan Fellows replicated nationwide. "It would be very good to have a small amount of money federally for especially innovative teacher retention programs around the country," he said. "Kenan Fellows is a good example of that."
On Oct. 18, Mr. Guckian had breakfast with the Fellows and opened the second day of the institute by providing an update on North Carolina education policy. He also answered questions from the audience of more than 40 public educators. In addition to addressing concerns on teacher pay, he spoke about the benefits of the Kenan Fellows Program for teachers and students.
"You all represent some of the very best things that are happening in public education in our state," Mr. Guckian told the Fellows. "The thing that I think is the most powerful about the Kenan Fellows Program, and similar programs, is that you all are invested in working as cohort to exchange ideas."
The 2013 Fall Professional Advancement Institute was the third in a series of professional development sessions provided to select teachers as part their Fellowship. The two-day institute focused on three areas: preparing curriculum for presentation and dissemination, developing and implementing educational policy and assuming the role of teach leader and advocate.
Other speakers and their topics were:
Will Cross, director of the Copyright & Digital Scholarship Center at NC State: "Copyright in Education"
Deborah Friedman, manager of the Education Sector for the Center of Creative Leadership: "Navigating Change"
Rebecca Hite and Sam Wheeler, Einstein Fellows and Kenan Fellows Alumni: "Education Reform, Policy and You: The Power of the Teacher Leader"
J.B. Buxton, founding principal, Education Innovations Group: "Education Policy"
Carolyn McKinney, former executive director of the NC Professional Teaching Standards Commission: "Teacher Evaluation Tool: Behind the Scenes"
Kelly Hines, Discovery Education Guru: "There's More to Discovery Education"
The Fellows also participated in a "speed dating" session where they had six minutes to give presentations to their colleagues on their summer research projects in industry, higher education or with the NC Department of Public Instruction. The 2013 Fall Professional Advancement Institute is final time the Fellows will meet as a cohort until the recognition event in the spring.
Visit us on Facebook to see more photos from the institute.
Photo by Amneris Solano: Congressman David Price speaks to 2013-14 Kenan Fellows on Oct. 17 at the 2013 Fall Professional Advancement Institute in Raleigh.