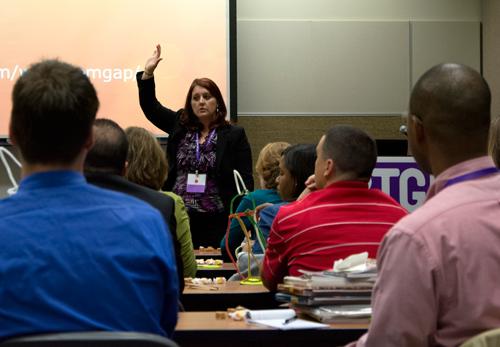 Thirteen Kenan Fellows shared innovative classroom resources and best practices with teachers from across the state during the 2013 Bridging the Gap Conference Oct. 14-15 at the McKimmon Center in Raleigh.
Organized by the NC Association for Biomedical Research, Bridging the Gap brings together educators, business leaders, government officials and others who play a role in science, technology, engineering and math (STEM) education to share ideas and resources.
Fellows who presented and their topics were:
Annie Jones, third grade teacher, and Cara Vaughn, fourth grade teacher, Henderson County Public Schools: "Getting Started with Schoolyard Inquires." They reviewed lessons that provided an easy-to-follow framework for using the schoolyard as an inquiry-based classroom.
Willow M. Alston, high school STEM master teacher and Mildred T. Bankhead-Smith, middle school STEM master teacher, Moore County Schools: "Creating STEM Infused Learners." They modeled tools that are used to facilitate inquiry-based STEM lessons.
Cate Colangelo, lead science teacher, Johnston County Schools: "Proto-ZOO-ology." She introduced teachers to science process skills and affinity diagrams.
Caroline Courter, a doctoral candidate at UNC-Wilmington: "Developing and Implementing Student-led STEM Activities" for the K-5 classroom. Participants in her session explored how to use Common Core and Essential Standards blended with student interest to facilitate cross-curricular STEM lessons.
Erin Lawrence, middle school science teacher, Wake County Public Schools, presented on Edmodo, an online platform that allows teachers and students to collaborate in the virtual world.
Julie-Anne Thomasch, science teacher, Wake County Public Schools: "Biotechnology in the Biology Classroom." She shared how cell culture development plays a role in the biotech industry and demonstrated a lesson that participants can implement in their own classrooms.
Five Fellows presented in a single session on "Kenan Fellows Program Resources." Each Fellow had six minutes to present on a specific topic. A question and answer session followed.  The Fellows and their presentations were:

Kirk Kennedy, science teacher, Duplin County Schools: "Flipping the Classroom." He provided tips for teachers who wish to try flipping a lesson.
Vance Kite, science teacher, Durham Public Schools: "Trello in the Classroom." He introduced teachers to Trello, a web-based project management tool that allows students to break projects into tasks and work together.
Karen S. McPherson, business teacher, Camden County Schools: "It's in Their Pockets." She gave tips on how to use mobile devices in lessons.
Justin Osterstrom, science teacher, Wake County Public Schools: "Data Literacy Elevator Speech." He spoke about the benefits of data literacy and how to get started.
Mark Townley, environmental/earth science teacher, Wake County Public Schools: "Bridging the Science Islands through STEM." He implemented two different curricula that he uses in his school to maximize student understanding.
See photos of the presentations on our Facebook page.
Photo by Amneris Solano: Carolina Courter gives a presentation on hands-on STEM lessons for the K-5 set at Bridging the Gap 2013.