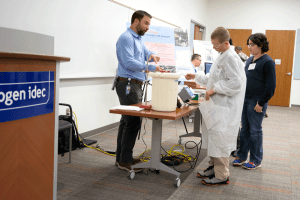 RESEARCH TRIANGLE PARK ─ Biogen Idec, the world's oldest independent biotechnology company, opened its Research Triangle Park campus to 115 sixth graders from Wake Forest Middle School on March 5, 2014.
The students toured the company's quality control lab, manufacturing facility and got to speak with researchers, scientists, engineers and others about the skills employers seek in potential workers. The field trip demonstrates Biogen Idec's support of the Students@Work Week initiative driven by the NC Business Committee for Education in the NC Governor's office.
"Biogen Idec is committed to making a difference in the lives of our patients and community," said Machelle Sanders, vice president and general manager of Biogen Idec in RTP. "This event provided an enriching, inspirational experience that promotes career awareness of the sixth grade science students as a legacy to future generations of Biogen Idec employees."
Community Lab Experience
The sixth graders got the chance to conduct an experiment in Biogen Idec's Community Lab, which promotes citizen science and allows students to work side-by-side with Biogen Idec scientists. The lesson on liquid chromatography mimics the testing done by a quality control department and was designed by Kenan Fellow Erin Lawrence who spent five weeks in the summer of 2013 shadowing Enoc Henry, associate director of quality control at Biogen Idec.
As part of her Fellowship, Lawrence partnered with Biogen Idec's team of scientists to create cutting-edge curriculum materials featuring hands-on exercises that enable students to understand the biological, biochemical and quality aspects of molecules related to the manufacturing of improved and effective drugs. The visit served as the closing event for her 2013-14 Kenan Fellowship assignment at Biogen Idec.
Real World Connections
"My time at Biogen Idec and with the Kenan Fellows program changed the way I teach. I was inspired and wanted my students to have a similar experience. Watching their faces light up as we toured the labs, received our safety glass and lab coats was so rewarding," Lawrence said. "Hearing my students say 'I want to work in the Microbiology lab and I would love to work in Metrology' made the field trip complete. Because of this field trip my students understand what real science is and how what we are doing in our classroom connects with the world."
The field trip was an eye opening experience for the students. A parent of the one of the students said her daughter has her sights on working at a biotech company someday.
The mother wrote a note to Ms. Lawrence that read: "Sara really enjoyed the field trip. She talked and talked about working there, and said that she would have to go to NC State. She said she has her whole life mapped now. Thank you for planning this field trip."
Visit the Kenan Fellows Program's Facebook page to see pictures from the field trip.