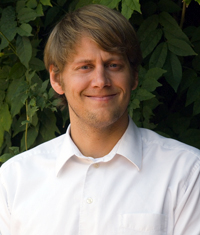 Kenan Fellow Jeff Milbourne has been selected for the 2014-15 Albert Einstein Distinguished Educator Fellowship Program. Mr. Milbourne is one of 14 new science, technology, engineering, and mathematics (STEM) educators from across the United States to be awarded the competitive fellowship.
He is the third Kenan Fellow to be selected for the prestigious national program. Kenan Fellows Rebecca Hite and Sam Wheeler were awarded Einstein Fellowships in 2012-13.
Stepping Stone
Mr. Milbourne said his Kenan Fellowship acted as a stepping stone to the Einstein Fellowship. "Kenan Fellows Program activities helped spark an interest in broader educational issues like policy," he said. "The program also connected me with an exceptional group of colleagues who introduced me to unique opportunities like the Einstein Fellowship."
Mr. Milbourne, a teacher at the NC School of Mathematics and Sciences in Durham, will serve an 11-month fellowship in Washington, D.C. at the Department of Energy (DOE). As an Einstein Fellow, he will provide his host agency with practical classroom insight to inform the development and implementation of education programs and policies, especially those related to STEM education.
Competitive Application Process
The 2014-15 Einstein Fellows were selected through a rigorous application and interview process from a nationwide pool of competitive applicants. The new cohort includes elementary, middle, and high school teachers from public and private schools in 13 different states.
Download a complete list of 2014-15 Einstein Fellows here.