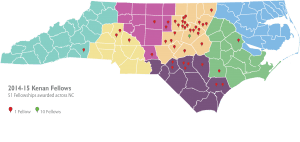 RALEIGH, N.C. – The Kenan Fellows Program and its partners are pleased to announce its 2014-15 fellowship awards during Teacher Appreciation Week May 5-9.
See a complete list of Fellows, their projects and their mentors here.
Fifty-one public school teachers from across the state have been selected as 2014-15 Kenan Fellows. The prestigious fellowship empowers educators to spearhead innovative teaching practices in North Carolina. Teachers selected as Kenan Fellows remain in their classrooms while completing a year-long fellowship.
The 2014-15 Fellows will spend five weeks of their summer shadowing and learning from local experts in renewable energy, healthcare, pharmaceuticals, agriculture and other science, technology, engineering and math (STEM) disciplines. Kenan Fellows use this experience to create and implement cutting-edge classroom resources designed to elevate student learning.
"Through our partnerships with industries, institutes of higher education and community organizations, the Kenan Fellows Program provides a remarkable opportunity for teachers to enrich their profession and connect students to real-world practices," said Elaine Franklin, director.
Kenan Fellowships are made possible through the support of the program's partners. A multi-year grant from the National Science Foundation's Robert Noyce Teacher Scholarship Program is helping fund eight Kenan Master Teaching Fellows in the Fort Bragg region. The new Kenan Master Teachers join part of an ongoing effort to engage in a variety of leadership activities in their home districts including assisting in the preparation of new teachers.
Multi-Year Grants
Another multi-year effort funded by a National Science Foundation Math Science Partnership grant is giving 12 teachers in Wake, Pender, Alamance, Durham and Pitt counties the opportunity to collaborate with scientists to create lessons that inspire students to become "citizen scientists." Dr. Rob Dunn, Associate Professor of Biology at NC State University, is leading the five-year project which also includes NC State's Friday Institute in the College of Education, NC State's Science House, and the NC Museum of Natural Sciences. Fourteen Fellows are also being supported by a National Science Foundation Research Experieces for Teachers grant. That team of Fellows will learn from researchers working at NC State University's ASSIST Center as they develop and employ nanodevices and sensors.
The 2014-15 Kenan Fellows were selected after a competitive application and interview process. Fellows receive a tablet donated by Lenovo, leadership training, professional development and a stipend. They join an elite statewide network of more than 300 Kenan Fellows whom have a track-record of achievement and excellence in education.
Program Supporters
The Kenan Fellows Program is an initiative of the Kenan Institute for Engineering, Technology & Science at NC State University. Program supporters are the National Science Foundation, the William R. Kenan Jr. Charitable Trust, the Biogen Idec Foundation, CommScope, GlaxoSmithKlein, the Goodnight Educational Foundation, Lenovo, Dr. Brian Strahl of UNC Chapel-Hill, Dr. David Muddiman of NC State University, Dr. Fred Gould of NC State University, FREEDM Systems Center, NC A&T University, Halifax Helps Inc., Iredell County Farm Bureau, NC Space Grant, Ply Gem, SAMSI, NISS and the NC Electric Membership Corporation.