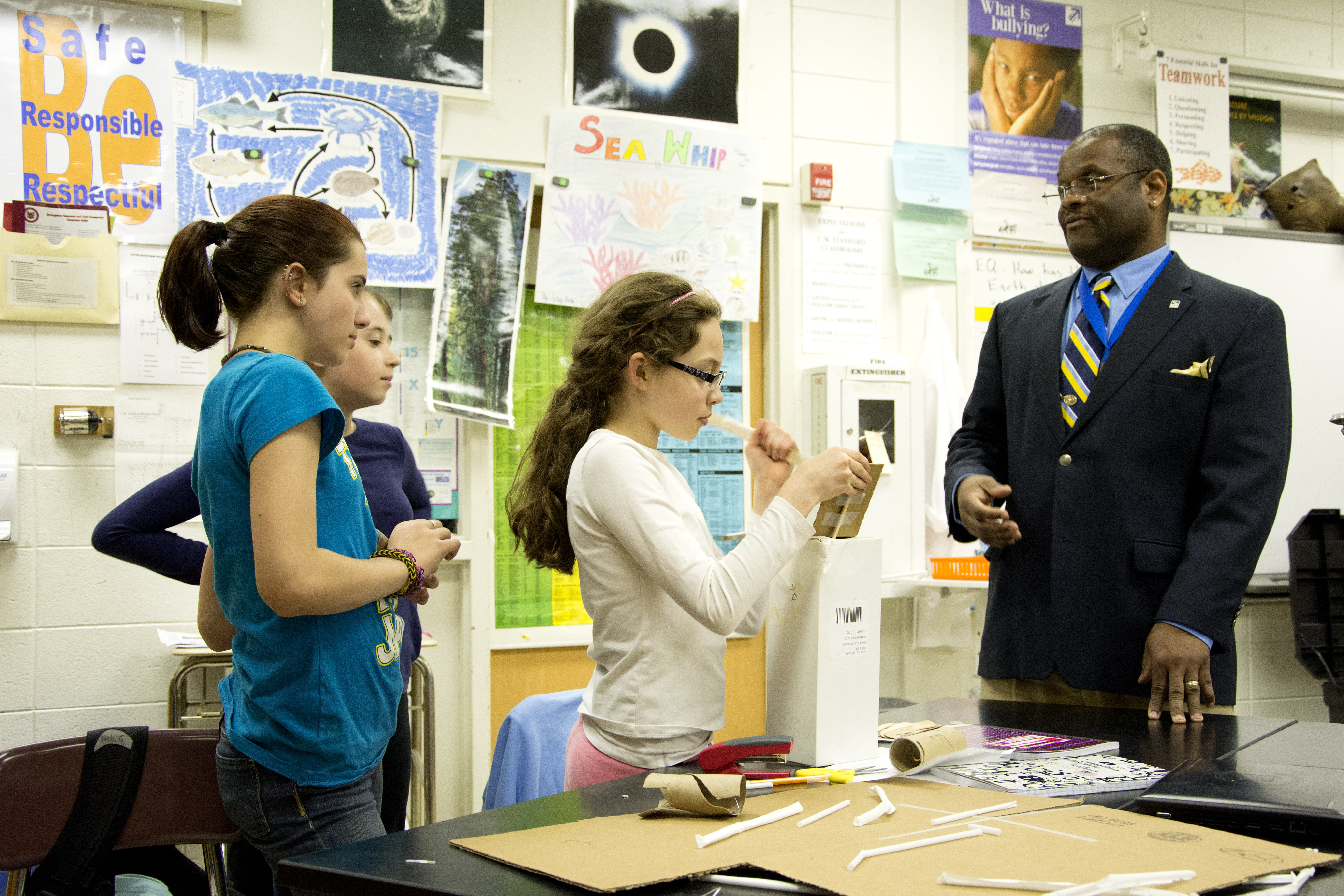 HILLSBOROUGH ─ After school three days a week, Jeff Faulkner's classroom at CW Stanford Middle School becomes a place of pure exploration. Instruction takes a back seat to autonomy and creativity as the middle grade students are encouraged to "figure it out" for themselves.
Figure what out? That depends on the day.
The students use the engineering design process to sketch, build and test all sorts of gadgets from construction crane replicas to musical instruments. Mr. Faulkner leads this after-school program with the help of volunteers from the Morehead Planetarium.
Using scrap materials such as cardboard and plastic cups, the students are given the task of creating an object related to a science topic. Other than telling them what to build, the students receive little instruction. This leads them to imagine, discover and innovate for themselves.
"We need to get students away from thinking that there is only one right answer. The answer isn't always A, B or C," Mr. Faulkner said. "This teaches them critical thinking and gives them the creativity to discover things for themselves."
The program, Communities in Schools Mind/Body After-School, grew in part from Mr. Faulkner's partnership with the Morehead Planetarium as a 2013 Kenan NASA Flight Fellow. During his fellowship, he worked with Jonathan Frederick who directs the NC Science Festival ─ an initiative of Morehead Planetarium ─ to help launch the "Invite a Scientist" program.
"With support from our principal, Anne Purcell, it was Communities in Schools that developed the collaboration and obtained funding for our joint partnership," Mr. Faulkner said. "The students and their parents love the after school program and we love them."
See more pictures from the program on our Facebook page.
**Pictured: Jeff Faulkner encourages students to be innovative as they build a model of a construction crane during his after-school program