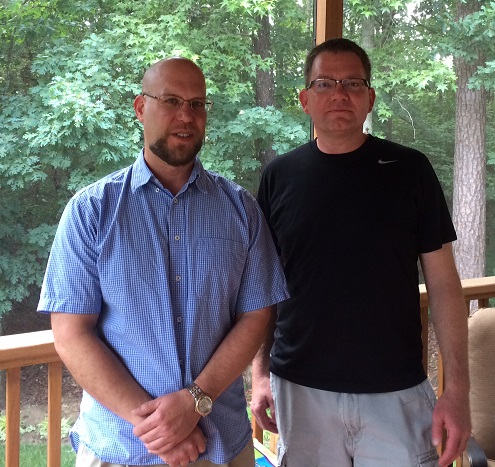 For seven years, I have taught Chemistry and Earth & Environmental Science at Johnston County Middle College High School. This will be my 20th year teaching.
I have taught in Ohio and Indiana, taught for public schools, taught for private schools, taught Western philosophy for Duke TIP, and taught through the Morehead Planetarium and GlaxoSmithKline's Science in the Summer program.
I say that to emphasize that I have had a lot of diverse teaching experiences, but what I lacked was practical hands-on lab experience. That changed this year with my Kenan Fellowship. My summer internship with Dr. David Muddiman and his team at the W.M. Keck Mass Spectrometry Laboratory at NC State focused on "Reinvigorating the War Against Cancer."
Gaining Lab Experience
The team I interned with is investigating the use of glycans as possible biomarkers in the diagnosis of ovarian cancer. Glycans are sugar molecules that have bonded to something else in the body (usually proteins or lipids) and they play really important roles in cell development and communication.
Imaging tests are generally inconclusive with ovarian cancer and there are no generally accepted clinical tests that can be used to diagnose it (at least in the early stages). Between 70-80 percent of the women who are diagnosed with ovarian cancer are already in late-stages. This late diagnosis drastically reduces the chances of patient survival beyond five years.
Inspiring the Next Generation
I feel honored and privileged to be part of such important work, and it has been an inspiring experience to be back in the lab and surrounded by scientists. I hope to bring my excitement and experiences back to my students and school in a meaningful way.
One of my passions in the classroom (and also one of my major concerns) is scientific literacy. Many of our students do not understand what science is or how it works. I hope that I can take my experiences doing research back to the classroom to illustrate scientific investigations and what the scientific process entails. I also hope to inspire the next generation of innovative scientists.
2014-15 Kenan Fellow Brain Cartiff teaches in Johnston County Schools. His Kenan Fellowship project was sponsored by Dr. David Muddiman at NC State University.