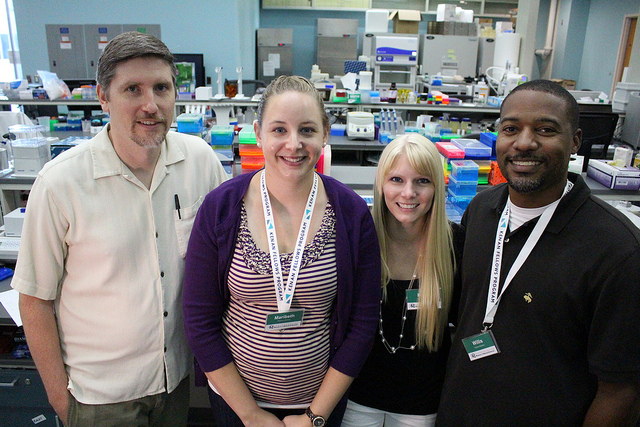 My experience as a Kenan Fellow has been an unexpected adventure. Since becoming an educator, I have not gone through any other professional development program that has served as both an inspiration and motivation.
This summer I interned at the NC Museum of Natural Sciences with Dr. Dan Fergus as part of the Students Discover citizen science project, "Pouring Over Our Pore Mites".
My fellow Teacher-Scientists were Maribeth Evans and Kayla Norville. Together, we investigated several aspects of Demodex face mite biology that we will share with our students.
One is the possible connection between Demodex mites and the skin condition called rosacea. It is not clear, but the thought is that some of the bacteria that cause skin inflammation associated with rosacea reside inside of the mites. Another aspect we discussed over the summer is that of mite absence and presence, particularly on people under 18 years old. We also talked about mite phylogeny.
To date, data collected so far have shown that mites are consistently present on people over 18 years old. Students will be able to voluntarily get sampled and add valuable data that could help us understand mite presence/absence on younger people. It also will allow the students to play an active, participatory role in a research study that is current and ongoing.
In the classroom, we'll collect samples from students (as well as potentially from their parents and my colleagues), with the help of Dr. Fergus we will look for the presence of mite DNA in the samples, sequence the mite DNA, and then the students will analyze sequence data, make graphs of the presence of mites based on participant age, and build a mite phylogeny, or evolutionary map, based on those DNA sequences. We'll compare the mite phylogeny to the human evolutionary tree to see how well it tracks the migratory patterns of people groups across the world.
These are just some of the ways I am planning to incorporate my Kenan fellowship into my classroom. This experience has allowed me to realize that students often don't get to see the discovery of science. We teach the concepts and recreate labs to show how science and scientists operate, and we may do a lab where we don't know the outcome but this fellowship has provided an opportunity for students to engage in real discovery.
Another significant takeaway from my Kenan fellowship came in the form of a question. How do we teach this in the classroom? These scientists who mentored us this summer looked to us to help them translate the research to the classroom. So now I can inspire my students not just with words but a tangible research experience that they can interact with.
Overall, it has changed my perspective for the better of how I see science and education. I am grateful to have had this experience, grateful for the relationships I have made, and grateful to be a Kenan Fellow.
Willis Foster teaches at Kestrel Heights School in Durham. His fellowship was supported by a National Science Foundation Math Science Partnership Grant.