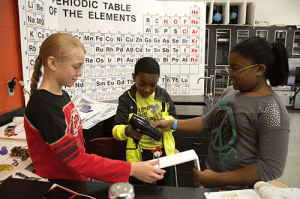 RAEFORD ─ Kenan Fellows Aticila Mormando and Gabrielle Patrick helped launch the first STEM Academy for Hoke County Schools.
The academy kicked off on Oct. 25 and runs every other Saturday from 8 a.m. to noon for five weeks. Each Saturday, 50 students in grades fourth through eighth gather inside the Hoke County High School Science Building to explore the wonders of science, technology, engineering and math. On alternate weeks the students switch between the STEM Academy's five different sessions that focus on Health and Sciences, Energy, Food Chemistry, Aerodynamics, Robotics and Coding.
Hoke County Schools provides transportation and meals for the students who applied to participate in the academy. The lessons led by Hoke County teachers focus on hands-on activities to better instill a love of learning in students.
"The hands-on minds-on curriculum is designed for students to have a better understanding of STEM principals and engage them to become critical thinkers," said Ms. Mormando, a science teacher at East Hoke Middle School. "We want to motivate them to apply what they learn in the classroom to real world."
Health Sciences
In this session, Ms. Mormando challenges each student to think like a doctor and even think differently as a health consumer. The students act like "medical detectives" and perform a simulated Cerebral Spinal Fluid Test to determine the disease that is causing a patient's symptoms. Ms. Mormando drew from her Kenan Fellows Program internship experience with the Southern Regional Area Health Center in Fayetteville to develop the lesson.
"I have wanted to do this all my life and now I have a chance. I feel like a real scientist," said seventh-grader Shantell Jackson as she looked through a microscope to discern if the "patient" had viral or bacterial meningitis.
Energy
Students analyze different energy resources by building, testing and evaluating different energy projects to determine the most energy efficient source. The session is led by Ms. Patrick who interned with Sustainable Sandhills as part of her Kenan fellowship on energy efficiency.
Food science
Students decipher the dangers of junk food by exploring the nutrients that make up the foods we eat. By performing a variety of chemistry experiments, they investigate the nutritional value and macromolecule content of a variety of food products.
Robotics
This robotics workshop covers topics on the basics of robotics design and programming. The students have a hands-on experience with sensors, data cables, microcomputers, and parts to build, program, and test robots based on real-life robotics technology.
Coding
By using Alice, a 3D programming environment, students learn fundamental programming concepts in the context of creating animated movies or simple interactive games. The students are able to drag and drop graphic tiles to create a program, where instructions correspond to standard statements in an object-oriented programming language such as Java.