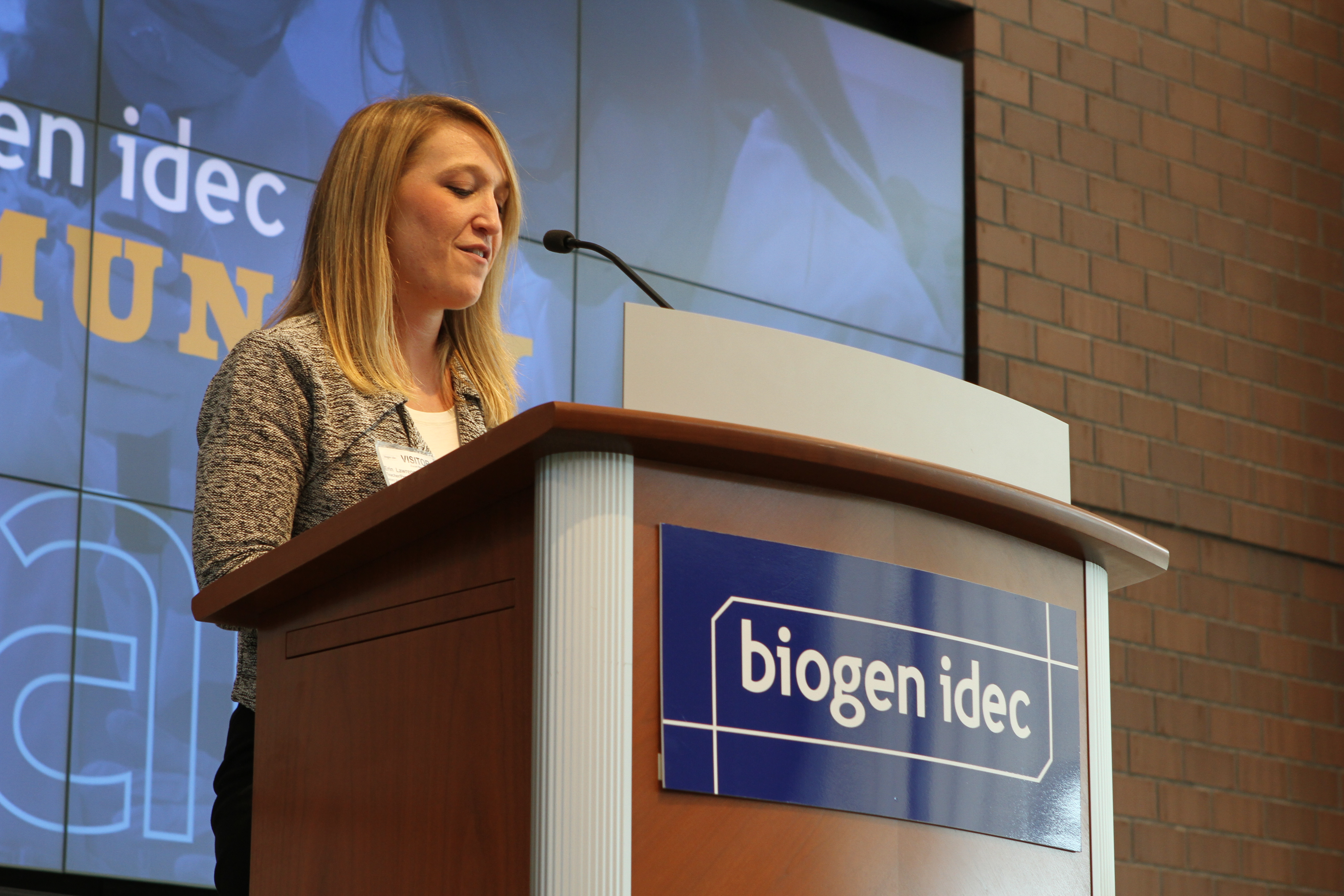 REASEARCH TRIANGLE PARK — 2013-14 Kenan Fellow Erin Lawrence, a science teacher at Wake Forest Middle School, spoke during a celebration of Biogen Idec's newest Community Lab on Tuesday, Oct. 10.
After a standing ovation, Ms. Lawrence shared her experience as a Kenan Fellow working at Biogen Idec, and how she followed that experience by bringing all 120 sixth graders from Wake Forest Middle School to Biogen Idec to experience life in a science-based company. She read from a letter sent to her by a parent who talked about how meaningful the field trip was to her daughter.
"Forty percent of my students qualify for free and reduced lunch," Ms. Lawrence told the audience. "This student population rarely has someone encouraging them to dream about their future and think beyond their circumstances. When they walked into Biogen Idec, they saw, some for the first time, the purpose for school and the bigger picture."
Biogen Idec CEO George Scangos, who gave the opening speech at the event, described Biogen Idec as a company dedicated to community service. "Caring deeply isn't just something we do," Mr. Scangos said. "It's an extension of who we are as a company and how we support the communities where we have a presence."
Mr. Scangos and Ms. Lawrence joined NC Governor Pat McCrory and more than 75 elected officials, business and community leaders, students and teachers to celebrate Biogen Idec's investment in science education. The event gave guests the opportunity to tour the new facilities and offered a sneak peek into the innovative learning experiences the lab has to offer.
Biogen Idec has long been committed to science, technology, engineering, and math (STEM) education. The company created its first community lab in 2002 in Cambridge, Mass., and has hosted more than 24,000 students since opening its doors.
"We've taken what we have learned from our Cambridge Community Lab model and worked with teachers from Wake and Durham Counties to develop this new Community Lab's modules," said Juan Torres, senior vice president of global quality for Biogen. "The lab in the Research Triangle Park will expose students to STEM-based careers through engaging projects and unique learning opportunities unlike those that school classrooms can offer."
Public middle and high schools chosen by Wake and Durham counties will be taking advantage of the opportunities available at the Community Lab. The first official on-site classes will begin on Oct. 24. led by Community Lab Coordinator Amanda Marvelle. All of the programs offered by the RTP Community Lab will be free to students, and the costs for transportation to the lab can be by offset by the company.
Working with local teachers ensures that the lab's lessons are complementary to the current school curriculum—and helps provide further professional development for the teachers themselves.
Community leaders are excited about the opportunities, education and inspiration the new RTP Community Lab will bring to students.
Sue Breckenridge, Executive Director of the North Carolina Business Committee for Education, says, "Biogen Idec's Community Lab is a great model for how science-based companies can provide real-world experiments that closely align with our state's science curriculum and workforce development goals. The company's program provides both teacher development opportunities and classroom enrichment programs that are helping drive our goal of improving STEM achievement across the state."