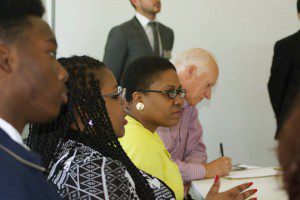 2013-14 Kenan Fellow LaTanya Pattillo and her mentor, Lee Clark-Sellers of Ply Gem, helped connect business students at East Columbus High School with management students at N.C. State University. The high school students in Pattillo's Innovation, Research, and Development (iRad) class at East Columbus spent six weeks working with students from N.C. State's Masters in Global Innovation Management (MGIM) program to develop a research based, product launch marketing strategy for the Ply Gem Corporation.
The students were tasked with collecting and analyzing survey data, creating and submitting possible project names and offered a strategy and suggestions for bringing the product to market. The culminating event was a collaborative presentation and an interactive, dynamic, question and answer session with the MGIM students and representatives from Ply Gem headquarters at the James B. Hunt, Jr. Library on N.C. State's Centennial Campus. The catalyze for the project was Pattillo's 2013 summer internship at Ply Gem through the Kenan Fellows Program.
For five weeks, Ply Gem opened its Columbus County manufacturing facility to Pattillo giving her a behind-the-scenes look into how the company creates its exterior building products. Pattillo, a business teacher, learned first-hand the skills her students would need in order to obtain a career at a company such as Ply Gem. She translated this experience into lessons for her students.
(Courtesy L. Pattillo)