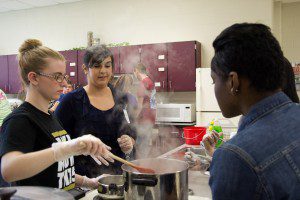 GRAY'S CREEK – The Local Foods Movement is an old idea that has been getting a "reboot" in the last decade. There are many government agencies and non-profit organizations that are promoting local food production.
Farmers are working diligently to increase their customer base. Local citizens want fresh food. The only problem is that local schools have no set curriculum on local food production and its benefits. Our future generations don't yet have a platform to fully explore their food choices.
This school year, I took on the difficult yet worthwhile task of designing a curriculum that comprises a huge variety of knowledge on local foods production. Under the guidance of my Kenan Fellows Program mentor, Shea Ann Dejarnette of the Robeson County Cooperative Extension, I was able to find pertinent information that my students need to know in order to develop a passion for local food production.
Connecting Students to the Root of Local Foods
The Cooperative Extension service is one of the best kept secrets in any state in our nation. Extension agents are problem solvers, advisers, coaches, supporters, teachers, listeners, field experts, and so much more. They are available to the public and especially to teachers and students. After spending five weeks interning with the Robeson County Cooperative Extension, I made valuable connections that I can use in my classroom and that I can encourage my students and their families to use in the future.
In February, 33 of my agriculture education students went on a field trip to the Robeson County Farmer's Market, the Robeson County Extension Office, and local farms to explore the economic characteristics of local foods. In April, my agriculture education students partnered with food science students to make strawberry jam using local fruit.
Community Ties
"I really enjoyed our local foods unit and lessons, especially the strawberry jam canning lab," said Amber Cottrell, a senior at Gray's Creek High School. "I was able to learn a valuable that skill that I never thought I would be able to learn. No one in my family knows how to preserve fresh fruits or vegetables. I now believe canning is a necessary skill and I am so glad that I will have that skill to help me in the future."
Passion is necessary for a local foods movement to begin in our nation. This fellowship has reignited my passion for agriculture and supporting our local farmer. The Kenan Fellows Program has also taught me that even though I am alone in my classroom when teaching – I am never alone in my profession. This program has made me aware of the many community resources available to teachers.
April Pittman, a 2014-15 Kenan Fellow, teaches agricultural education at Gray's Creek High School in the Cumberland County Schools system. The National Science Foundation Robert Noyce Teacher Scholarship Program sponsored her fellowship.