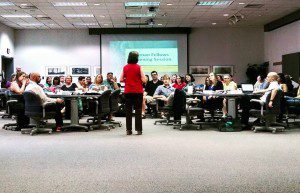 CULLOWHEE ─ The 2015-16 cohort of Kenan Fellows completed their first Professional Advancement Institute on June 22-26 at the NC Center for the Advancement of Teaching in Western North Carolina. Forty-two K-12 teachers from more than a dozen school districts across the state learned about proven teaching methods, innovative instructional resources and best practices in digital education. Many of the sessions were led by educators in the Kenan Fellows statewide network.
"I think it is so powerful that the professional development was presented by teachers who are still in the classroom," said Brittany Argall, an eighth-grade math teacher at Farmville Middle School in Pitt County Schools. "We learned about resources and strategies that are tested and true."
The institute was the first of three professional learning workshops designed to help 2015-16 Kenan Fellows grow as professionals and become leaders in education. Sessions topics included classroom management, using infographics to inspire student learning, blogging in the classroom, citizen science, project-based learning, integrating STEM in the humanities, and other topics related to digital learning and instructional strategies.
EdCamp Kenan Express
For the first time as part of a Professional Advancement Institute, Kenan Fellows participated in "EdCamp Kenan Express," a short EdCamp event that brought together small groups of Kenan Fellows to brainstorm, problem solve and discuss best practices. EdCamp Kenan Express allowed the Fellows to take charge of their own professional learning. The Fellows led the sessions and chose the topics such as teacher leadership, motivating the unmotivated student, the technology-infused classroom, and others.
"The first Professional Advancement Institute was the best professional development I have ever attended. Many sessions were offered that allowed input from the participants. We were not expected to sit and listen, but to engage," said Nancy Cattrell, a science teacher in the Academy of Engineering at Apex Friendship High School in the Wake County Public School System. "The EdCamp session was the most useful. I think it is so important to include teachers in planning professional development."
The Biogen Foundation is the premier sponsor for the three 2015 Professional Advancement Institutes, which are designed to support the teachers in their fellowship experience.