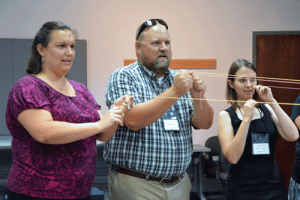 Professional development (PD) should be relevant, applicable, realistic, managed in a timely and efficient manner and most importantly beneficial for student learning. Unfortunately, I have experienced "PD shock" in the past (not at my current school of course) in which at least one if not all elements were not in place and has thus made me a bit "PD shy" on occasion.
Upon receipt of the agenda for the first Professional Advancement Institute as part of my Kenan fellowship, I was a bit taken aback by some of the marathon professional development sessions. Well, that was before I experienced "PD Kenan style!" After completing the first of three Professional Advancement Institutes through the Kenan Fellows Program, I am still in awe of the educators I was blessed to learn from and wish that every K-12 educator could experience such inspiration.
On June 22, the 2015-16 cohort of Kenan Fellows met as a group for the first time for a week of professional learning, brainstorming, and team building at the NC Center for the Advancement of Teaching in Cullowhee. We all knew we were a part of a special opportunity but I do not believe any of us were prepared for what occurred. We arrived as strangers and within a matter of hours ─ perhaps even minutes for a few of us ─ relationships were formed among the teachers that may last a lifetime.
Sharing the common bond of serving young people at all grade levels, ages, and subject areas, this group of dedicated, passionate educators experienced a week of learning and relationship building that was so powerful and moving that we soon realized we were not just a cohort. We were becoming a part of the Kenan Fellows family. We were reminded that we were not alone and that politics, negativity, or other distractions should not impede our goal of teaching and helping prepare students for college, career, and life. We have the passion. We have each other.
Over the period of a few days we carpooled, shared ideas, rafts, resources, technology, questions, concerns, frustrations, celebrations, trophies, wildlife, laughs, hugs, sweat, freezing water, great food, hikes, stimulating conversation, lack of sleep, s'mores, big hearts, and developed a love for all. In these first few days together, we learned from some great teachers and presenters while being inspired to help make our classrooms, schools, communities, and our great state a little better. I was not sure what to expect from our week in the mountains, but I know that it surpassed my highest expectations.
2015-16 Kenan Fellow Daniel McCoy teaches business and marketing at Panther Creek High School in the Wake County Public School System and at Wake Technical Community College in Raleigh. He also coaches football and baseball at Panther Creek High School.