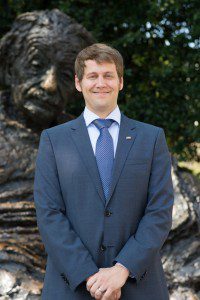 Kenan Fellow Jeff Milbourne has been awarded the prestigious Presidential Award for Excellence in Mathematics and Science Teaching for grades seven through 12. Milbourne is one of two North Carolina teachers to receive the honor. In all, 108 teachers in the U.S., the District of Columbia, Puerto Rico, U.S. Territories, and the Department of Defense Education Activity schools are among the winners.
Milbourne, a 2010 Kenan Fellow, is also a 2014-15 Albert Einstein Distinguished Educator Fellow. He teaches physics at the NC School of Mathematics and Sciences in the Durham Public Schools system.
According to a press release from the White House, the Presidential Award for Excellence in Mathematics and Science Teaching is awarded annually to outstanding K-12 science and mathematics teachers from across the United States. A panel of distinguished scientists, mathematicians, and educators selects the winners following an initial selection process done at the state level, the press release said. Each year the award alternates between K-6 educators and those teaching seventh through 12th grades.
Winners of this Presidential honor receive a $10,000 award from the National Science Foundation; are invited to Washington, DC, for an awards ceremony; as well educational and celebratory events, and visits with members of the Administration, according to the press release.