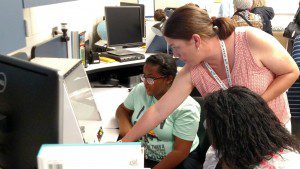 SNOW HILL, N.C. ─ Students in Jennifer Walmsley's STEM lab at Greene County Middle School learn by doing. They use computer programs to create drawings etched by a Z-Mill. They rely on reasoning skills to maneuver a robotic arm and use trial and error to problem solve.
Walmsley, a 2015-16 Kenan Fellow, designed the curriculum for the school's new lab to help students build career-ready skills. "We have to make sure students are leaving us with the skills and pre-requisites they need to be successful," she said. "Students need to find out what careers interest them. Not just, 'I want to be a nurse', but what possible track they could pursue. They need to delve deeper into career options and find what is really out there."
She learned about many of those possibilities during her five-week internship at Lenoir Community College. Her mentor – Gary Clements, dean of Business Technologies, Industry, and Emerging Technologies Programs ─ created the internship so Walmsley could get a wide scope of the many programs and classes offered at the college.
"We toured the campus and I met many of the Deans and instructors in the differing departments," she said. "Each professor shared with me what their program focus was, what types of classes they covered, and potential job locations and salaries that accompanied that type of degree. The range of programs here is simply amazing."
Walmsley took what she learned during her internship and incorporated it into her curriculum at her school's new STEM lab, which had its ribbon cutting on Monday, Sept. 28. The Greene County Middle School lab is the first of several to open across the region as part of a $500,000 grant from the Duke Energy Foundation. The foundation also helped to support Walmsley's Kenan fellowship project, "Gaining Knowledge through Your Local Community College."
STEM East is leveraging the grant to establish similar labs in middle schools in surrounding counties including Carteret, Craven, Lenoir, Onslow and Wilson. The STEM labs, Walmsley said, help educators to narrow the gap between education and industry. She is already thinking of ways to tie the work being done in her lab to the community.
"I want to have a job fair at our school, hosted by our students, and presented to our parents and community. This will be based around course offerings at Lenoir Community College along with job descriptions, degree requirements, and possible job locations and salaries," she said. "This has the potential to not only increase student college participation, but potentially pull members from the community back into the classroom to learn new trades and skills. I am super excited to develop this idea and event."