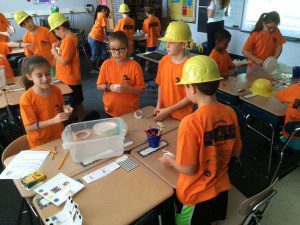 The theme for my classroom this school year is Underwood Laboratories (UL).
It is always important for me to make the room look exciting, bright, cheerful and safe. As the students entered the classroom on the first day of school, they found a yellow safety helmet on each of their desks and a poster of the engineering design process displayed on the back wall.
Naturally, this year's theme was inspired by my five-week summer internship at UL in RTP. It was a fantastic learning opportunity to have been given a backstage pass to the many labs within UL. One of the tests I was able to witness was of a full immersion suit which will protect rescue workers and military personnel from hypothermia. Getting this behind the scenes look allowed me to make so many connections to the classroom.
We give students an opportunity to try new things, and to practice and demonstrate an understanding of what they have learned. We then assess them on the standard for that new knowledge. If they fail to pass the assessment we revisit, reteach and retest. Shadowing the engineers at UL, I saw a similar progression. The engineers must understand the science behind the products they are testing.
It was exciting to see the engineers each day working to solve problems or improve things so that they are reliable and repeatable. Drawing from this experience, I came up with ways to teach my students the science behind safety and to incorporate the engineering design process into my lessons. The students have enjoyed wearing their construction helmets and collaborating to establish the rules for the classroom.
Allowing students an opportunity to be inquisitive problem solvers is appealing to so many of the children at our school. The children, who struggle with being confined by the rules, have enjoyed the open ended structure of an engineering challenge. Today's students are moving beyond the basics and embracing the "Four Cs" of 21st century skills: communication, collaboration, critical thinking and creativity. Watching and guiding students as they learn how to incorporate these skills reminds me why I teach.
2015-16 Kenan Fellow Rhonda Connor teaches third grade at Underwood Elementary School in Wake County Public Schools. Her fellowship, "Finding a Connection," was supported by UL LLC and Underwood Elementary School.