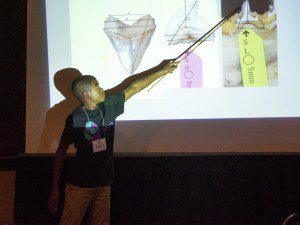 GREENSBORO ─ A group of sixth-grade students from Exploris Middle School became the instructors during a session at the NC Council of Teachers of Mathematics annual conference in October.
The five students led the 90-minute professional development workshop along with their teacher, Kenan Fellow Juliana Thomas. The session titled, "Fossil Shark Teeth Case Study: Students Analyze Real Scientific Data in the Classroom," was a combination of lecture and hands-on activity.
"I'm proud to have had my students deliver the workshop," Thomas said. "They have really taken ownership of this project and they are the stars."
During the workshop, Thomas gave a brief overview of the middle school math lesson which was an outcome of her three-week summer internship at the N.C. Museum of Natural Sciences as part of the Students Discover project. Thomas created the lessons and case study along with two other Kenan Fellows Kimberly Hall and Kerrie Albright, who also teach middle school.
Thomas' students delivered the majority of the professional development session for educators using a PowerPoint presentation as well as providing their personal experiences of searching for shark teeth fossils, measuring the teeth and charting their findings. Following the presentation, the students helped the teachers who attended the session to find and measure shark teeth and record the data.
"The shark teeth project was a great way of bringing citizen science to the math classroom because we used many ways of displaying data that scientists use," said Grace, one of the sixth-grade students.
Parker, another sixth grader, said he enjoyed learning about the history of fossils as well as the scientific study being conducted by researchers at the Museum. "I loved doing real science just like scientists do every day," he said. "It got me more engaged in the amazing world of shark teeth."