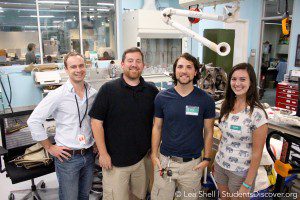 I have always been a reflective teacher with a focus on challenging students to think outside the box and develop critical thinking skills. The Kenan Fellows Program has brought these qualities out even more as I am finding that I am more reflective and purposeful than ever.
As teachers, we are all aware that every group of students is different and that we must adjust our teaching methods as such, but how often do we do that effectively? How often do we ask for our students to give us input? When we do, how much do we value it, take it to heart, then implement their suggestions?
Embracing the value of student input has been the most valuable takeaway from my Kenan fellowship, and it has helped me to improve my teaching so that I may better meet the needs of my students. I am requiring my students to reflect on their habits and progress consistently. I am meeting with them before and after each test, quiz, and benchmark to set goals and talk about what is and is not working for them. It has required more work on my part, but it has truly paid off.
Students are performing better as a result.
My students are more aware of the amount of responsibility they must take in their own learning, and they are working hard to improve their study habits. I have had students go from making atrocious grades on their first quiz of the year to perfect scores on their most recent. Our classrooms are communities, and if we want our students to buy-in to that idea, then we must encourage them to voice their opinions and take those opinions into consideration when designing our lessons.
That's not the only benefit I have seen in myself in the six months that have passed since my internship with the N.C. Museum of Natural Sciences. The three weeks that I spent there this summer have changed me more than I ever could have imagined. My mind has been opened to things that I had only dreamed of, and my approach to education has become more inquiry and STEM based than it was before.
Here's a look what has happened since my internship:
In a collaborative effort with a colleague from Farmville Middle School, another Kenan Fellow from my cohort, and a partner from the Wilson County School's Central Office, we hosted the first EdCamp East NC in November with more than 100 educators in attendance including administrators and representatives from SAS. We even had a principal drive from York, VA. Our next EdCamp East NC has been scheduled for March 12.
Thanks to some amazing individuals and DonorsChoose, four Spheros were donated to our classroom. We spent a week and a half learning how to program Sphero using code. We used our mathematical knowledge to determine how many inches per second Sphero would travel then programmed him to race various distances. What an amazing way to make functions and proportional relationships real for students!
Our mentor, Dr. Bucky Gates, has been incredibly helpful as we implement our Students Discover: Shark Teeth Forensics lesson in our classrooms. Anytime I need to bounce ideas off of Dr. Gates, he has been super supportive. We have really molded this into an awesome project, and I can't wait for it to be published so we can share it with the world.
2015-16 Kenan Fellow Brittany Argall teaches eighth-grade math at Springfield Middle School in Wilson County Schools. Her project, Students Discover: Shark Teeth Forensics, was supported by the National Science Foundation.