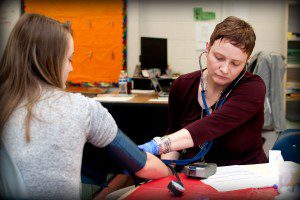 ALBERSTON ─ Eighth grade students in Joy James' math classroom at B.F. Grady Elementary School in Duplin County Schools are learning much more than how to chart data.
The students are getting a lesson in community health thanks to curriculum designed by James, a 2015-16 Kenan Fellow, and her mentor, Krista Horne, Director of Patient Care Services, Education at Vidant Duplin Hospital. On a recent Tuesday, the eighth graders documented their height, weight, body mass index (BMI), and waist circumference.
"It's cool, because the numbers we are working with are actually real," said Eduardo, one of James' students.
Horne ─ along with Sue Ellen Wells, Coordinator of Outreach Services: Community Health at Vidant Duplin Hospital ─ measured the students' blood pressure, cholesterol and blood sugar. Students read articles on how BMI, cholesterol and blood sugar affects health, and are using the information to not only create a scatter plot, but understand the story behind the numbers.
"By collecting data about themselves and applying it in math class, they are learning how to interpret these numbers in a real world context," James said. "As a whole, the students have been more engaged because they can relate to the data on a personal level."
Once the students have charted the data, they will identify trends and compare it to different populations to see how their community fares.
"I sincerely appreciate the opportunity to represent Vidant Duplin Hospital and partner with innovative educators such as Joy to create and deliver lessons that make science and math education truly relevant, engaging, and effective," Horne said. "Vidant Duplin's partnership with the Kenan Fellows Program allows us one more avenue to improve the health and well-being of eastern North Carolina, and allows us a head start on the development of our health care providers of tomorrow."
James developed the lesson following her summer internship at Vidant Duplin Hospital. She collaborated with Horne, her mentor, and Wells to implement the lesson. Wells was instrumental in helping to seek permission to screen adolescents, which broke a mold for the hospital's Community Outreach model.
"I am so proud of the high caliber of instruction and student engagement that I've experienced while serving as a Kenan Fellows Program mentor," Horne said. "I am grateful that this fellowship has supported advanced academic innovation in our own community.
James also said she is grateful for the opportunity to have shadowed and learned from hospital staff this summer, and to be able to bring her experiences to her classroom.
"I greatly appreciate the helpfulness of the Vidant Duplin Hospital team, and their guidance throughout this experience," she said. "They have gone out of their way to help me create an engaging, hands-on lesson."
Visit us on Flickr to see more photos from the lesson.