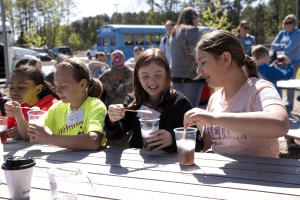 RESEARCH TRIANGLE PARK ─ Bayer, the No. 1 global producer of cotton and canola seeds, hosted 110 fifth graders from Person County Schools on April 8, 2016 at its Crop Science headquarters in Research Triangle Park (RTP).
The students toured the Bee Care Center and the Greenhouse. The event was made possible through a partnership between Bayer and the Kenan Fellows Program for Curriculum and Leadership Development at N.C. State University.
Kenan Fellow Lindsey Hensler, who interned at Bayer this summer as part of her 2015-16 fellowship, helped to organize the field trip for the Helena Elementary School students. During her internship, Hensler was able to experience Bayer's entire product cycle at its RTP facility, and she wanted to share that experience with her students.
"One important component of this is to show students that in the science industry there are jobs that aren't necessarily science specific but relate to science," Hensler said. "Being fifth graders it is an important time for them to start thinking about their interests and passions as they look toward the future, and for them to see what industry looks like and what the work place looks like."
Making Science Make Sense
As part of the field trip, the students also rotated through five different stations of Making Science Make Sense activities. Making Science Make Sense is a Bayer companywide initiative that provides educational resources for teachers and employees for engaging students in science. Hensler, along with 2015-16 Kenan Fellow Stacey Guerrero who also interned at Bayer, helped to design some of the hands-on lessons that students participated in during the field trip.
"It was great to welcome Lindsey back to Bayer, and to see her experience with us as part of the Kenan Fellows Program continue to pay dividends for her and her students," said Casey Allen, manager of External Communications with the Bayer Crop Science division. "The Making Science Make Sense program is intended to help spark an interest in Science and STEM fields through hands-on, interactive experiences, and we hope that we were able to do just that with the students from Helena. Who knows? Our next CEO may have been in that group."
The different stations were led by Bayer scientists and Making Science Make Sense volunteers, which gave students a chance to ask them questions about their work and how their career paths unfolded. Logan, one of the fifth graders, said the station where they learned how to make silly putty was his favorite part of the day. "It was just so amazing to see something start off as a liquid that you can then pick up because it turned into a solid," he said.
Another student was so impressed by the field trip that he vows to work at Bayer someday. The student is taught by another fifth grade teacher at the elementary school.
"My co-worker said that this student has rarely shown that level of engagement in anything they have learned in her classroom this year," Hensler said. "I've always been concerned that I was not doing enough to make my fellowship experience accessible to students beyond my classroom. After completing this field trip, I see this as an opportunity that we can continue to collaborate with Bayer so that more fifth graders at our school can have this experience. Will the student mentioned above become an employee of Bayer? Who knows? What I do know is that he will never forget how he felt at the end of that trip."