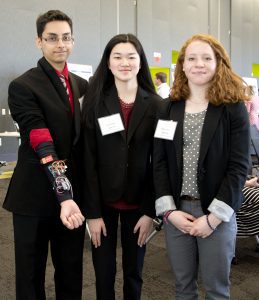 More than 75 students from Triangle area schools competed in the 2016 One Health Challenge at N.C. State University on Thursday, April 14, 2016.
Students were tasked with designing a wearable device to monitor a health condition for either humans or animals. After local contests at individual schools, nine middle school teams and seven high school teams were chosen to compete in the final competition at the James B. Hunt, Jr. Library on NC State's Centennial Campus.
The One Health Initiative is a collaborative effort that promotes synergy between scientists, researchers, and medical professionals specializing in all aspects of human, animal, and environmental health. By studying these connections, researchers believe they can better understand animal to human interactions, prevention of disease transmission, and correlations between the environment, animal and human health.
The Center for Advanced Self-Powered Systems of Integrated Sensors and Technologies (ASSIST) is a National Science Foundation sponsored Nanosystems Engineering Research Center (NERC). The Center's mission is to use nanotechnology to improve global health by enabling a correlation between personal health and personal environment that empowers individuals and doctors to manage wellness and improve quality of life.
In partnership with NC State's Kenan Fellows Program, the ASSIST Center brought the initiative to local high and middle schools. The Kenan Fellows Program addresses the critical need for high-quality professional development for K-12 educators, and is the largest (science, technology, engineering and math) STEM-focused teacher fellowship in North Carolina. Kenan Fellows Hannah Elliott and James Lamberth, who completed summer internships at the ASSIST Center as part of their fellowship, helped to organize the competition.
"James and I developed a website with lesson plans, timelines, and device rental information so that any teacher in any school in North Carolina could participate." said Elliott, a Career Technical Education (CTE) engineering teacher at Ligon Middle School in Raleigh. "This year's competition was so incredible we can't wait to see what students design next year!"
High school students were required to design a working prototype of their device, while middle school students had to design just the model. All of the teams were required to create an ad campaign to promote their device. NC State faculty, industry partners, and graduate students served as judges for the challenge. Each device had to be self-powered and meet certain criteria including feasibility, wearability and aesthetics.
"The devices these students designed and built are truly amazing," said Dr. Elena Veety, the ASSIST Center's education director. "We can't wait to host an even bigger competition next year, and eventually expand statewide."
First, second and third place winners were named in middle and high school divisions. Wake STEM Early College High School students Shelby Neal, Lily Gergle and Brayan Jurado-Mendoza won third place for their device, the Night Owl which is designed to help people who suffer from sleep disorders or become over tired. The device helps to rouse the wearer by beeping and vibrating.
"There are over 60 types of sleep disorders and we really wanted to address those," said Lily. "We really divided and conquered with this project so seeing it all come together was really cool."
Middle School Winners
1st: Anaphylatic Stop (Hilburn Acadamy)
2nd: Howlometer (Centennial Campus Middle)
3rd: Alert Band (Hilburn Academy)
High School Winners
1st: The Guiding Hand (Wake STEM Early College HS)
2nd: FlexFit (Enloe HS)
3rd: Night Owl (Wake STEM Early College HS)
Hear the winning High School team from Wake STEM Early College discuss their project: