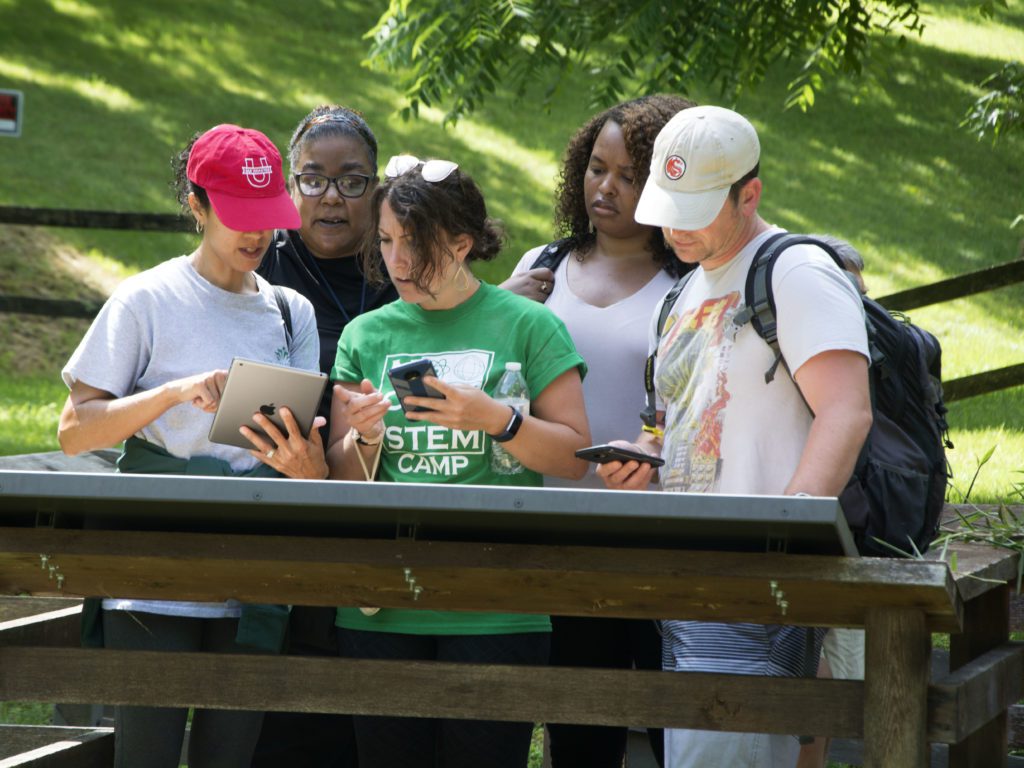 CULLOWHEE – From learning Cherokee history to studying macroinvertebrates in riverbeds, the 2018-19 Kenan Fellows participated in a cross-curricular scavenger hunt as part of the 2018 Summer Professional Learning Institute at the NC Center for the Advancement of Teaching.
The all-day scavenger hunt was designed to model innovation in instructional practices and foster collaborative teamwork among the new cohort of 25 Kenan Fellows who gathered as a group for the first time on June 18-22. The Summer Institute is one of two required professional learning seminars for the 2018-19 Kenan Fellows.
The second institute is two days in length and is scheduled in October in Raleigh. Educators in the Kenan Fellows Alumni Network who serve on the Professional Development Steering Committee plan the content of the institutes and deliver many of the sessions. By the end of the yearlong fellowship, the Fellows will have completed 80 hours of professional development.
Sessions for the Summer Institute focused on project-based learning, web tools for classroom management and student engagement, design and computational thinking, literacy in STEM, professional identity and branding for educators, and more. This was the first year for the cross-curricular scavenger hunt which incorporated content from history, citizen science, engineering, language arts and other disciplines. The challenges were completed using learning apps including iNaturalist and GooseChase. Fellows were divided into teams of five.
Ashley Luersman, who teaches at Aberdeen Primary School in Moore County Schools, said the scavenger hunt was her favorite activity of the Summer Institute. Hers was the winning team.
"Not only did I learn how to create a fun educational scavenger hunt for students, I learned new science content and enjoyed being outdoors. I especially enjoyed working as a team and figuring out the best way to complete each mission. When I first saw all the missions, I thought we would never finish but as we got closer to the end, we pushed ourselves to complete every mission. The activity really put me in the shoes of my students and is such a wonderful lesson for all students to learn."
In addition to introducing new tools and instructional strategies, the Summer Institute offered educators a valuable opportunity to network with peers from across the state. GSK Kenan STEM Fellow Tamara Barabasz, who teaches at Easley Elementary School in Durham Public Schools, said the networking was a highlight for her.
"The KFP Institute was without a doubt the most memorable and pivotal professional development opportunity I have had the privilege to be a part of. This week has been like no other because of the comradery. Everyone was approachable and eager to share. The learning that we experienced will translate into our classrooms immediately and take the 21st-century elements that we advocate for to a whole new level."