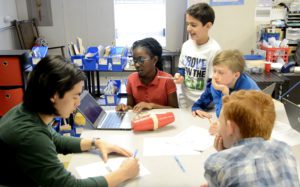 Ever since I was 9 years old, I wanted to be a teacher. The more life I experienced only reinforced that teaching was/is the perfect fit for me.
All of the courses I took prepared me to understand best teaching practices and build a strong philosophy on what learning should look like and feel like in the classroom. And while I firmly believe that NC State has an INCREDIBLE teaching program, I also know that I only briefly explored concepts of engineering and science. I didn't deeply plunge into any topic in particular. I was on the path to become a teacher and everything I did and saw was from that lens. I didn't understand how exposure to different concepts would be beneficial to me as an educator.
GAINING A BROADER PERSPECTIVE
It is not to say that I went through school thinking none of what I was learning had add-value. It's just the WHY wasn't made clear to me. I learned curriculum and content, but I didn't understand the interconnectedness between what I was learning and how it translated to the real world and for that matter into my future classroom.
Between my four years of teaching at Exploris, a little more life experience, and the Kenan Fellows Program, I have learned that there is a lot of value in having a broad knowledge base. Exposure to different concepts only creates a more holistic view of the world and contributes to implementing meaningful curriculum in the classroom. Because school for me was taught through a lens of becoming a teacher and only really needing to know what a teacher does, I didn't get a picture of what it must be like to work in different fields of industry.
By interning at CAT (Caterpillar) this summer, I now understand how to go about addressing the WHY. I know that creating opportunities for students to apply their knowledge in a meaningful context is so important. My hope for my current and future students is that they will someday be able to say things like, "We learned about geometry as part of engineering drawings and we still use that today." Or, "We learned about nutrition when we volunteered at the Camden Learning Garden and discovered ways to increase access to healthy foods for our local community."
ADDRESSING THE 'WHY'
I want the WHY to be clear. Why do I show up for work? Relationships. Why did I spend a summer with CAT? To become more innovative.
Prior to this summer, I had no experience working in industry, driving machines, being in shipload meetings, meeting with a Vice President, talking to folks in marketing, or talking about how to improve a design to better serve a customer. All of this was NEW! I didn't take business classes, or know about welding. These are only things I had heard of but didn't "know" about. I didn't understand the value of each of these jobs and how they contribute to making a more beautiful and productive world.
It is hard to address the WHY without meaningful experiences like the one I had this summer. We need teachers who understand best practice and the philosophy behind what a classroom should look and feel like depending on the content area. But we also need teachers with a broader view and understanding of the world that they are preparing kids to go out and be a part of.
In addition to broadening my perspective, being a Kenan Fellow has empowered me to be more assertive. Not in a demanding or aggressive way, but in a way that makes my messaging clear and helps me present it with a vision. Being part of the Kenan Fellow brand has helped me believe in my own message. It has empowered me by seeing myself as a teacher who has a voice that is worthy of being heard.
EMPOWERING TEACHER VOICE
The way I see it, I do not do things for recognition, or awards, or prizes. In fact, I shocked myself by even applying to become a Kenan Fellow. It's important that others do not see this as an opportunity for me to gloat or seek praise that I am not worthy of. Rather, I hope to continue to build relationships with teachers in my school and my community and encourage them to try new things alongside me.
I also want to empower teachers who maybe don't share in the Kenan Fellow name to know that they too have a voice worthy of being heard. Because we spend our souls on loving and supporting our students we truly are the experts in our classrooms. However, this does not mean we are experts in every field. Which is why I have worked hard this year to create partnerships with community members who can add a new perspective to my teaching approach and expose my students to new ideas. I believe other teachers can do this too!
I believe in myself in a whole new way and I hope by sharing some of what I've been doing with my students this year I will inspire another teacher to try something new.
About Annah's Project
As part of their fellowship, Kenan Fellows design and implement a project in their schools and or communities. The following is a description of Annah's project.
In partnership with a group of Biomedical Engineering students at NC State, Annah designed a fourth-grade curriculum project that integrates North Carolina history, engineering, and technology. As part of the project, fourth-grade students developed a solution to a real-world problem. They identified their market and created a basic business plan for their product. Working alongside the Biomedical Engineering students at NC State, who served as mentors, the fourth-graders learned how to pitch their products, as well as, design 2D engineering drawings and create 3D prototypes. The fourth-graders then presented their designs to their mentors who provided feedback.
Annah Riedel is a 2018-19 GSK Kenan STEM Fellow. She teaches fourth grade at Exploris, a charter school in Raleigh.