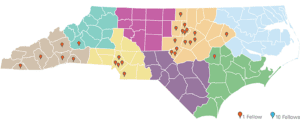 RALEIGH, N.C. – On National Teacher Day, the Kenan Fellows Program for Teacher Leadership is pleased to announce the 27 North Carolina public school educators who have been awarded 2019–20 fellowships. This cohort of K‒12 teachers from across the state were selected from a highly qualified applicant pool of 85 educators following a competitive application process.
The educators represent 16 school districts across the state from Western to Eastern North Carolina and teach a wide range of grade levels from elementary to high school. The teachers are subject matter experts in a variety of disciplines including math, science, English as a Second Language, Language Arts and Social Studies.
"We are excited to announce this newest cohort of teachers leaders and are grateful to the many partners and supporters who make our program possible. Teacher leaders play a critical role in student achievement. We look forward to seeing how these educators will leverage this opportunity to benefit their schools and community," said Dr. Elaine Franklin, director of the Kenan Fellows Program for Teacher Leadership.
This summer, the 2019–20 Kenan Fellows will spend three weeks interning with local experts in agriculture, scientific research, energy, high-tech manufacturing, and other STEM fields. As part of the award, Kenan Fellows receive a $5,000 stipend and participate in 80 hours of professional development that focuses on project-based instruction, digital learning, elevating teacher voice and the teaching profession, strengthening ties between the school and the local community, peer coaching and mentoring, and growing professional learning networks that extend beyond the school and local district.
Making these connections are vital, as teachers often do not have the opportunity to engage with the world beyond their classroom. How can teachers be expected to best prepare their students for the world outside of school if they themselves have not had a chance to experience the culture of contemporary workplaces? The Kenan Fellows Program provides teachers with the opportunity to work in industry and research settings and supports the translation of their internship experience into an array of instructional resources that are then shared with their schools, districts, and communities.
Join us in congratulating these fine educators who join a highly respected network of more than 450 Kenan Fellows working to improve STEM education state and nationwide.
The fellowships are only made possible through the generous support of the program's corporate, education, government, and foundation partners including:
Appalachian Regional Commission (ARC), Burroughs Wellcome Fund, Charlotte-Mecklenburg Schools, Duke Energy, Fidelity Investments, GSK, Kenan Institute for Engineering, Technology & Science Board of Trustees, Kenan Fellows Program for Teacher Leadership Board of Advisors, Mertek Solutions, Inc., North Carolina's Electric Cooperatives, North Carolina Farm Bureau, North Carolina Pork Council, North Carolina State University, Ply Gem, SAMSI, University of North Carolina at Chapel Hill, Union Power Cooperative, and the Wayne County Farm Bureau
Below is a list of the 2019–20 Kenan Fellows, fellowship projects, mentors and supporters.