Part of our Kenan Fellows Voices Series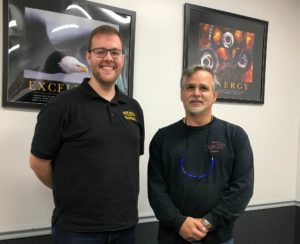 As I sit back and reflect on my time as a teacher over the past four years, I see some major changes. The main change has been the closer relationships that I have been able to build with my students. This has allowed me to gain more insight into their lives, and one way I have been able to do this is by sharing the new industry knowledge and experience that I gained during my internship at TEAM Industries as part of my 2019-20 Kenan Fellowship this summer.
I learned so much during my three weeks at TEAM from seeing first-hand the creation of boat motors to being in the room when tough upper-management decisions were being made. I can now let my students know that they have some exciting career options in the region if they are willing to work on building the right skills such as time management, persistence and problem-solving. Too often I see students who possess the "I have already given up on life and I am only 15 years old" mentality, but by opening their eyes to what is available around them, I have begun to see some lasting changes.
Before I became a Kenan Fellow, I knew the program gave teachers the opportunity to network and develop their overall understanding of local industries. That is a great opportunity for any educator in any part of the state, but especially in small communities like mine where building stronger ties between schools and businesses is critical to bolstering the economy and developing the local workforce. That being said this makes me VERY excited to see how long I can "ride this wave" and make a positive impact in my tiny, Appalachian community.
Austin Hedden, a WNC STEMwork Kenan Fellow, teaches math and science at Hayesville High School in Clay County Schools. His 2019-20 fellowship is supported by a grant from the Appalachian Regional Commission.