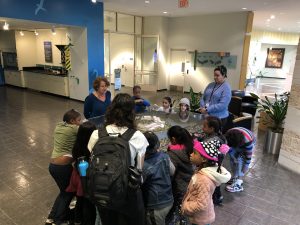 Kenan Fellow Kathleen Janes and her mentor Kelly Witter arranged two separate field trips to the EPA's Research Triangle Park campus for the 80 second-grade students at Janes' school, E.K. Powe Elementary, in Durham.
Two groups of students went on the field trip on two different days during the month of November. The students toured the campus, met with scientists and participated in hands-on lessons including using surface temperature thermometers and measuring lung capacity.
The students also had the chance to speak with EPA employees during a "Career Conversations" session where they learned about each of the employees' day-to-day duties, their educational backgrounds and what ignited their interests in science.