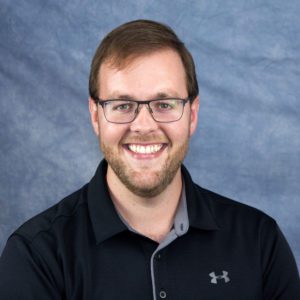 HAYESVILLE —Austin Hedden, a 2019-20 Kenan WNC STEMwork Fellow, is printing 3D masks in his classroom at Hayesville High School in Clay County to help provide some protection from the spread of the coronavirus for members of his school community.
We spoke with Hedden about what inspired him to begin production of the masks and how he and other members of his school district are giving back during these challenging times.
How did you get the inspiration for printing the masks? 
Another teacher in the school emailed me the idea and I knew it was something I wanted to tackle. I have watched our (school) nurses day in and day out taking our temperatures prior to us loading on the buses to deliver meals and they mention having to reuse the same mask because supplies are so low. Also, my wife has a pre-existing heart condition and these masks could mean the difference between life and death for someone like that.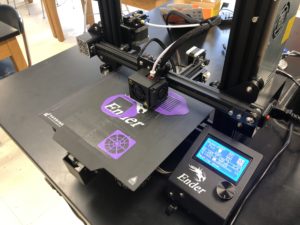 Why was this project something you wanted to tackle? 
We are such a poor county; and we have such limited resources, that we have to make do with what we have. I knew that I had a blessing with the 3D printers in my classroom and I needed to put them to work. While the students are away, the 3D printers will still do their job.
Who are the masks for?
The school nurses will get the first masks that come off of the printers, but after that, they will be distributed to essential personnel such as the administrators, bus drivers, bus attendants, and other teachers on campus who are working to keep things running.
How many 3D printers do you have in your classroom? 
Right now, I have five 3D printers running and I plan to have them running 24 hours until we have enough masks for everyone who needs one.
How were masks designed?
This was a design that I pulled offline. I decided that it would not be beneficial to "reinvent the wheel" since time is of the essence. Regardless, it is imperative that we waste as little time as possible and get these masks out. The link for anyone else who has access to a 3D printer and wants to make them is (https://cults3d.com/en/3d-model/tool/covid-19-mask-easy-to-print-no-support-filter-required )   Editor's Note: The masks have not been approved by a regulatory agency.
How long does it make a single mask? 
It depends on the machine.  On my fastest machine, it will take about four hours and on the slower machines, it takes around eight hours.
How many masks do you plan to make? 
As many as we can. I plan to keep printing them until we run out of filament.
Are you making them on your own? Or do you have help? 
Right now, I am the only one working on this project, but I know a few other teachers who have printers and are working on making some with the same design. It will take an army to get all of them completed. I just happened to have the most 3D printers because we were using them for my Kenan fellowship but the coronavirus but a pause on that.
Do you have any plans to expand your operations?
If they prove to be safe and sustainable we will pump them out to hospitals, nursing homes, care facilities, and all others that are working through this crisis.
What does it mean to you to be able to contribute in this way? 
It means making a difference and saving lives. As much as I would love to be in the limelight, notoriety is not something that I am looking for during this troublesome time. My heart has always been for Hayesville, and I will do all that I possibly can to keep the people that I love and cherish safe. If it was not for Hayesville I would not be the person that I am today.
Do you need funding for materials and supplies?
The 3D printer actually came from the GEARUp partnership that our school has with Appalachian State University and the filament came from the STEM-E program organized through WRESA and Carolina Williamson. The funds that are provided for the club have been used for 3D filament and that is what has made this all possible.
Hedden teaches science at Hayesville High School and his fellowship was supported by a grant from the Appalachian Regional Commission.