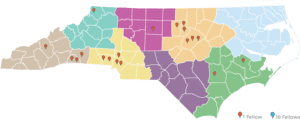 RALEIGH – On National Teacher Day, the Kenan Fellows Program for Teacher Leadership is pleased to announce the 19 North Carolina public school educators who have been awarded 2020–21 fellowships. This cohort of K‒12 teachers from across the state was selected from a highly qualified applicant pool of 71 educators following a competitive application process.
The educators teach in a dozen North Carolina counties from Western to Eastern North Carolina. This summer, and throughout the year, they will partner with local experts in agriculture, scientific research, energy, high-tech manufacturing, and other STEM fields.
"We are excited to announce this newest cohort of teacher leaders and are grateful to the many partners and supporters who make our program possible. Teacher leaders play a critical role in student achievement. We look forward to seeing how these educators will leverage this opportunity to benefit their schools and community," said Dr. Elaine Franklin, director of the Kenan Fellows Program for Teacher Leadership.
As part of the award, Kenan Fellows receive a $5,000 stipend and participate in 80 hours of professional development that focuses on project-based instruction, digital learning, elevating teacher voice and the teaching profession, strengthening ties between the school and the local community, peer coaching and mentoring, and growing professional learning networks that extend beyond the school and local district.
Making these connections are vital, as teachers often do not have the opportunity to professionally engage with the world beyond their classroom. How can teachers be expected to best prepare their students for the world outside of school if they themselves have not had a chance to experience contemporary workplace cultures? The Kenan Fellows Program provides teachers with the opportunity to work in industry and research settings and supports the translation of their internship experience into an array of instructional resources that are then shared with their schools, districts, and communities.
The fellowships are only made possible through the generous support of the program's corporate, education, government, and foundation partners including Allegheny County Farm Bureau, Ashe County Farm Bureau, Bonnie Cone Classical Academy, Biogen Foundation, Boys & Girls Club of Durham & Orange Counties, Burroughs Wellcome Fund, Cornerstone Building Brands, Community Public Charter School, Facebook, Fidelity Investments, Haywood Electric Cooperative, Kenan Institute for Engineering, Technology & Science Board of Trustees, Kenan Fellows Program for Teacher Leadership Board of Advisors, North Carolina's Electric Cooperatives, North Carolina Farm Bureau, NC State University, Tri-County Electric Membership Corporation, SAMSI, and UNC-Chapel Hill.
Established in 2000 as an initiative of the Kenan Institute for Engineering, Technology & Science at N.C. State University, the Kenan Fellows Program addresses the critical need for high-quality professional development for educators and is the largest (science, technology, engineering, and math) STEM-focused teacher fellowship in North Carolina. Today, a highly respected network of more than 483 Kenan Fellows are working to improve STEM education state and nationwide.
A list of 2020–21 Kenan Fellows, fellowship projects, mentors, and supporters are listed by school district are listed below.
ASHE COUNTY SCHOOLS
Barbara Heufel
Mountain View Elementary School
NC Christmas Trees with the NC Farm Bureau
Michele Smoot, Heather Willoughby, and Callie Carson
North Carolina Farm Bureau, Ashe County Farm Bureau,
Alleghany County Farm Bureau, and Watauga County Farm Bureau
CHARTER SCHOOL (MECKLENBURG)
Morgan Beldon
Bonnie Cone Classical Academy
Charter School Teacher Leadership Cluster 100 Gardens project
Sam Fleming and Cynthia Marshall of 100 Gardens
Bonnie Cone Classical Academy
Jennifer Keeler
Bonnie Cone Classical Academy
Charter School Teacher Leadership Cluster 100 Gardens project
Sam Fleming and Cynthia Marshall of 100 Gardens
Bonnie Cone Classical Academy
Clay Sanders
Mallard Creek STEM Academy
Spurring Innovation in Manufacturing with Cornerstone
Ginger Cone, Mike Humphreys, and Shane Alfonse
Cornerstone Building Brands
CHARTER SCHOOL (GASTON)
Harley Summey
Community Public Charter School
Charter School Teacher Leadership Cluster NC Cooperative Extension Center project
David Fogarty, NC Cooperative Extension
Community Public Charter School

Autumn Stobart
Community Public Charter School
Charter School Teacher Leadership Cluster NC Cooperative Extension Center project
David Fogarty, NC Cooperative Extension
Community Public Charter School
CHARTER SCHOOL (WAKE)
Emily Felker
The Exploris School
The Magnificent Cell
Dr. Paul Maddox
UNC-Chapel Hill
CRAVEN COUNTY SCHOOLS
Erin Strohschein
Havelock Middle School
Working Together for a Healthy Coast
Ana Zivanovic-Nenadovic, Rachel Bisesi,
and Todd Miller of North Carolina Coastal Federation
Kenan Institute for Engineering Technology & Science
Board of Trustees and Kenan Fellows Program
for Teacher Leadership Board of Advisors
DUPLIN COUNTY SCHOOLS
Erica Levai
James Kenan High School
Tri-County EMC: EmPowering Education
Jennifer Heiss, Mike Davis, and Deidra Grantham
Tri-County Electric Membership Corporation and
North Carolina's Electric Cooperatives
DURHAM PUBLIC SCHOOLS
Jacqueline Brown
Sherwood Githens Middle School
Caring Deeply, Working Fearlessly and Changing Lives with STEM
Tracy Ahrens of Biogen and Regina Lindsay
of the Boys & Girls Clubs of Durham and Orange Counties
Biogen Foundation
Madison Wagner
Northern High School
Caring Deeply, Working Fearlessly and Changing Lives with STEM
Tracy Ahrens of Biogen and Regina Lindsay
of the Boys & Girls Clubs of Durham and Orange Counties
Biogen Foundation
GUILFORD COUNTY SCHOOLS
Regeina Galloway
Northeast Guilford Middle School
Spurring Innovation in Manufacturing with Cornerstone
Garth Harris and Julie Williamson
Cornerstone Building Brands
HAYWOOD COUNTY SCHOOLS
Noal Castater
Waynesville Middle School
EmPowering Education
Danielle Wittekind, Tom Batchelor, Ken Thomas
and Jennifer Heiss
Haywood EMC and North Carolina's Electric Cooperatives
ORANGE COUNTY SCHOOLS
Britny Pinkney
Gravelly Hill Middle School
Technology and Personal Finance: Economics in the New Agile World
Siraj Pillae, Simmie Kastner, Leslie Walden, and John Simmonds
Fidelity Investments
POLK COUNTY SCHOOLS
Andrea Walter
Polk Central Elementary School
Cultivating Inspiration with Biltmore Farms
Carol Steen of Biltmore Farms
Facebook
Leslie Rhinehart
Polk County High School
Providing Unique Solutions with Eaton
Lori Ray of Eaton
Facebook
RUTHERFORD COUNTY SCHOOLS
Ashley Twitty
Spindale Elementary School
STEM West Diversity and Equity Asset Mapping Project
Carol Moore of STEM West and
Alfred Mays of Burroughs Wellcome Fund
Burroughs Wellcome Fund
WAKE COUNTY PUBLIC SCHOOL SYSTEM
Shane Barry
Athens Drive Magnet High School
Sustainable Energy through Chemical Looping Combustion
Dr. Fanxing Li
NC State University
MaryLu Ringwood
Forestville Road Elementary School
Using Statistics to Solve Problems
Dr. David Banks
SAMSI