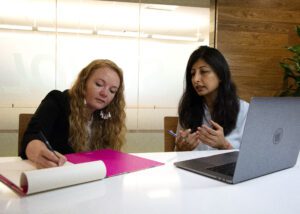 Lee County Teacher Partners with Investment Company to Improve Financial Wellness Among Students and Adults
RESEARCH TRIANGLE—For the 2019-20 Kenan fellowship year, a Lee County Schools fourth-grade teacher partnered with experts at Fidelity Investments to design resources and implement strategies to advance financial literacy. The fellowship project, "Paying it Forward with Financial Literacy," is a prime example of how education/industry partnerships can yield mutually beneficial results. The teacher, Taylor Waters, spent three weeks in the summer of 2019 interning at Fidelity's campus in Research Triangle Park where she explored the many ways that the investment company connects with STEM across North Carolina.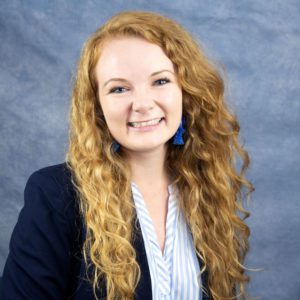 Fidelity provided Waters with a variety of learning opportunities to explore the company's business, design process, and learning models.
"Fidelity Investments truly cares, inside and out, about helping people self-actualize and using finances as a tool to get there," Waters said. "I truly care, inside the classroom and out, about helping my students become everything they want to be and living their own dream."
During her internship, Waters conducted empathy interviews with employees to get their feedback on what they would like to see in online financial learning solutions for employees and how those recommendations can be translated to grade-level appropriate lessons for students. From her experience, Waters was able to develop yearlong financial literacy lessons that integrate with math and social studies curriculum in the elementary classroom.
In addition, she helped Fidelity by joining the Performance Solutions design team to offer her expertise as an educator as they brought financial education to life for associates in areas like budgeting, debt and credit, and saving for retirement.
Marie Shelley, Senior Vice President and Site General Manager for Participant Services, was the executive sponsor for Taylor's internship and noted, "Taylor was a great addition to the team. She truly connected with our associates during empathy interviews and we valued her education experience as we designed our online tool. Taylor has been creative in bringing financial literacy into her classroom and we are excited that her students will have the benefit of financial basics early in their education."