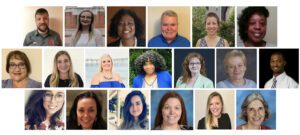 The Kenan Fellows Program for Teacher Leadership's 2020 Professional Learning Summer Institute went virtual this year due to the coronavirus pandemic.
The Summer Institute is the first of three professional learning institutes for the 2020-21 Kenan Fellows cohort. By the end of the year, the Fellows will have completed 80 hours of professional development designed to support them as their fellowship shapes their voices as practitioners and teacher leaders.
The Biogen Foundation is the lead sponsor of the Institutes, which are planned and led by a faculty of educators in the Kenan Fellows Alumni Network. The Summer Institute was from June 22-26 and featured sessions on equity, inclusion, and diversity, building leadership capacity and strategies for engaging students in remote learning. Kenan Fellows mentors and Board of Advisors members, Lee Clark-Sellers of Cornerstone Building Brands and Dawn Braswell of Siemens, led a discussion on making the most of the internship.
The Institute marked the first time the 2020-21 Kenan Fellows came together as a group. It is the first time the Kenan Fellows Program has offered its professional development virtually.
"I had the best virtual professional development one could imagine. I met a lot of great people, learned about myself through my Myers-Briggs' results, and got outside of my comfort zone," said Jacqueline Brown, Biogen Foundation Kenan Fellow. "I can't wait to go back to school and try some of the online engagement activities that I participated in."