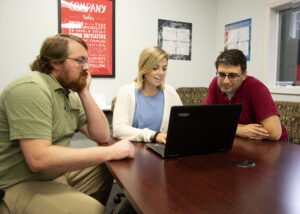 RESEARCH TRIANGLE PARK — Caroline Olson, a 2019-20 Kenan Fellow, collaborated with experts at Cornerstone Building Brands to explore ways to strengthen the talent pipeline for people with disabilities.
Olson, a special education teacher in the Wake County Public School System, interned at Cornerstone for three weeks during the summer of 2019 as part of her fellowship. While at Cornerstone, Olson examined hiring practices and existing programs for the recruitment and retention of individuals with Intellectual and Developmental Disabilities (IDDs).
Cornerstone has a strong culture of inclusion but the company sought Olson's expertise in special education to identify areas of improvement. Under the guidance of her Cornerstone mentors — Ibrahim Ozkan, Benjamin Willis and Lee Clark-Sellers — Olson drafted a 49-page proposal for the company to create an employment program that expands opportunities for individuals with disabilities to gain and retain employment in advanced manufacturing settings. Olson is also planning to develop teacher training programs and resources for post-secondary employment for families of students with disabilities in her school district.
"I am incredibly thankful to my mentors, funders, and the Kenan Fellows Program for providing me with this experience," Olson said. "To be able to apply the skills that I have as an educator in a different setting gave me the confidence to create a product that will not only impact their company, but also my teaching practice. I want to empower my students to move outside of their comfort zones and take risks."
Her proposal for Cornerstone is titled, "Creating and Implementing Inclusive Hiring Practices for Individuals with Intellectual and Developmental Disabilities in Advanced Manufacturing." She visited four facilities across three states for Cornerstone to consider as potential pilot sites. At the end of her internship, the company agreed to move forward with the inclusive hiring program at least one of the pilot site locations.
"Caroline did an amazing amount of work, and has helped pave the way for Cornerstone to utilize individuals with IDDs," said Lee Clark-Sellers, Innovation Officer with Cornerstone Building Brands.