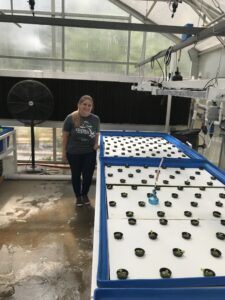 CHARLOTTE — Kenan Fellows, Jennifer Keeler and Morgan Beldon, are interning at 100 Gardens, a Charlotte nonprofit that implements aquaponics gardening programs in schools, institutions, and communities of need through on-site greenhouses that provide opportunities for hands-on learning.
"Aquaponics is a method of farming that raises freshwater fish and vegetables together. The fish create the nutrients for the vegetables through their waste, and the vegetables return clean water back to the fish," Keeler said. "Sam Fleming, the executive director, is extremely passionate about 100 Gardens and has been a great mentor throughout this process."
Drawing from the knowledge gained during their internships, the 2020-21 Kenan Fellows are creating a four-week unit for grades sixth through eighth that includes a series of lessons in which the students examine and reflect on their experiences of working inside the greenhouse as well as learning about nutrition. The cross-curricular unit is tied to literacy, math, science, and health standards and can be used at any school that has an aquaponics system or partners with 100 Gardens.
"This has been an invaluable opportunity. I'm a Language Arts teacher by trade, so the opportunity to think outside of my typical box when planning lessons and to challenge myself when constructing the curriculum has been a daunting, but fun task," Beldon said. "Working with such a community-centered organization has also been a huge gift."
The curriculum will be piloted at Bonnie Cone Classical Academy, where Keeler and Beldon teach, as a bridge to close the summer learning gap. The charter school in Mecklenburg County is in its second year. Once the program has been designed, schools will be able to choose whether they wish to implement the curriculum as a summer program, during aquaponics classes throughout the school year, or as an after-school program.
"The credit truly goes to Jennifer and Morgan. I have shown them several of our greenhouses and one of our indoor aquaponics systems and they have taken all the information I have given them and ran with it," Fleming said. "They are very creative and open to new ideas. We are very excited to see the final product and to continue working with them."
Keeler said her biggest takeaway has been observing the hands-on learning that happens when schools partner with 100 Gardens and the connections that students make when they grow and eat their own healthy foods.
"I feel extremely grateful and lucky that we are able to work with Sam on this project. Before learning about our internship, I knew very little about 100 Gardens and aquaponics, I did not know that having an indoor greenhouse at our school would even be possible," Keeler said. "This is going to be an amazing opportunity for our students and families, and I can't wait to get them all involved."
This project was made possible by a grant from the NC ACCESS Program.