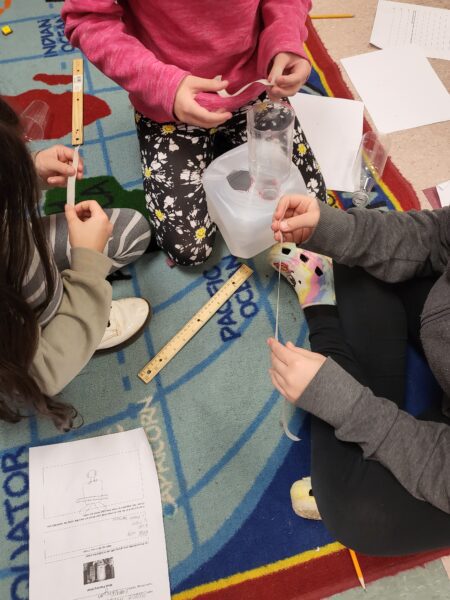 BELMONT, N.C.  ⸺ Students in Vanessa Hairston's fourth-grade class at North Belmont Elementary School in Gaston County Schools learned about the processes of magnetism used in manufacturing through a partnership with Cornerstone Building Brands. 
Hairston, a 2021-22 Kenan Fellow, interned at Cornerstone Building Brands in the summer of 2021. This school year, she designed and implemented a lesson based on the industry knowledge she gained during her internship experience. As part of the three-week internship, Hairston was able to shadow department heads in different parts of the facility from Environmental, Health, Safety and Sustainability to Production and Human Resources.
"Not only did this experience link classroom learning and application to the real world, but it allowed me to reflect upon and re-evaluate my practice as an educator based on their business model, as I quickly learned that much of what we do in the education sector is visible in the manufacturing business sector," Hairston said. "I designed the STEM activity in a way that would allow the students to connect the processes of magnetism to the real world." 
Her mentors at Cornerstone Building Brands, Shane Alfonse, Tony Rogowski, and Ginger Cone, helped Hairston in the design of her lesson by recording videos of manufacturing processes that Hairston shared with students to help them gain a better understanding of the science behind electromagnetism in STEM workplace settings. The maintenance team at Cornerstone Building Brands even built a model that simulates the mixer that is used to process materials in their manufacturing plant for Hairston to use in her classroom.
"As an intern, Vanessa made the most of her opportunity and time spent at our facility for the purpose of linking manufacturing back to her classroom. The experience she gained allowed her to provide her students with a learning experience around magnetism that translates into real world applications," said Rogowski, a plant manager.
For the lesson, the students learned how magnets attract iron and were instructed to build a simple mixer that funnels gravel and dye material mixed with iron objects. Using household materials, the students designed their mixer in a way that would allow magnets to attract iron before the objects are filtered through. The students planned, tested, and revised their designs for success. The lesson also allowed them to work in groups so they could practice interpersonal and communication skills.
Vanessa Hairston teaches fourth grade at North Belmont Elementary School in Gaston County Schools. Her fellowship was supported by Cornerstone Building Brands.