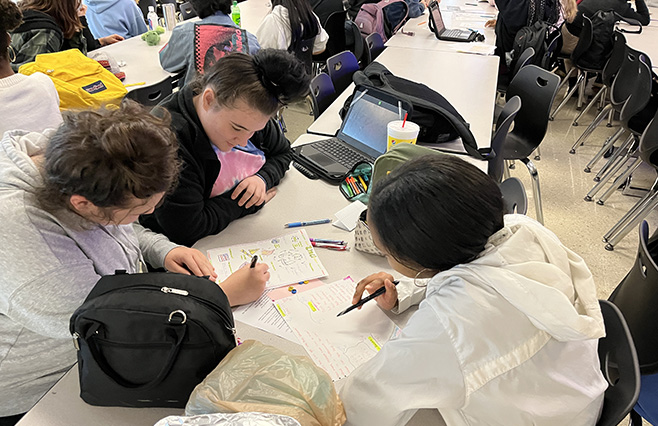 By Emily Moseley
Manager of Public Relations
Crawford 
Mooresboro, N.C – April 7, 2022 – Company leadership from American Zinc Products (AZP) recently visited the Cleveland County classroom of Beverly Owens, a science teacher at Cleveland Early College High School and the company's 2021-22 Kenan Fellow educator. During the visit, the AZP team gave students an overview of their unique zinc production process and answered questions from the class.
Following her fellowship in Summer 2021, Owens developed an in-class demonstration that educated students on aspects of the unique zinc production process taking place at AZP.  This in-class visit by Kendall Oliphant, process quality manager, and Charlie Howell, environmental manager, helped enhance the students' understanding of the process.
American Zinc Products participated in the statewide Kenan Fellows Program for Teacher Leadership as an industry partner for the first time in 2021. The fellowship through N.C. State University connects outstanding educators with mentors in local industry and business settings, creating opportunities that build meaningful relationships. Kenan Fellows develop a deeper understanding of local industries, their workforce needs, and how they can make relevant connections for students.
Owens shared her perspective on the experience: "As a chemistry teacher, it is important to me that students understand how science is embedded in our everyday lives. Through my experience as a Kenan Fellow, I was able to have a first-hand experience in seeing how concepts from our curriculum, such as electrodes, pH, and solubility, are utilized in producing zinc. During AZP's visit to my school, I was pleased that my students had a similar experience in hearing about the chemical processing and environmental quality controls utilized as zinc is processed from recycled material into a high quality zinc product."
AZP will participate for a second year and offer another fellowship opportunity to a local teacher from Rutherford, Polk or Cleveland Counties. This year's selected teacher will be announced on Tuesday, May 3, National Teacher Day.
"We thoroughly enjoyed hosting Beverly at our facility last summer and were excited to have the opportunity to speak directly to her students," said Kobus de Wet, AZP vice president and general manager. "We wholeheartedly support increased STEM education opportunities in our communities. By participation in programs like the Kenan Fellows Program, we hope to play a small role in the continued economic and skills growth of our state."
AZP takes recycled material and refines it to a finished zinc metal using solvent extraction and an electrowinning process. This finished product can then be used in the production of automobiles, appliances and various infrastructure applications. To learn more about the company, visit www.americanzincproducts.com.